24 October 2023
Bangchak Announces Launch Date for "Bangchak Digital Debenture" on 30 October 2023 on "Paotang" Application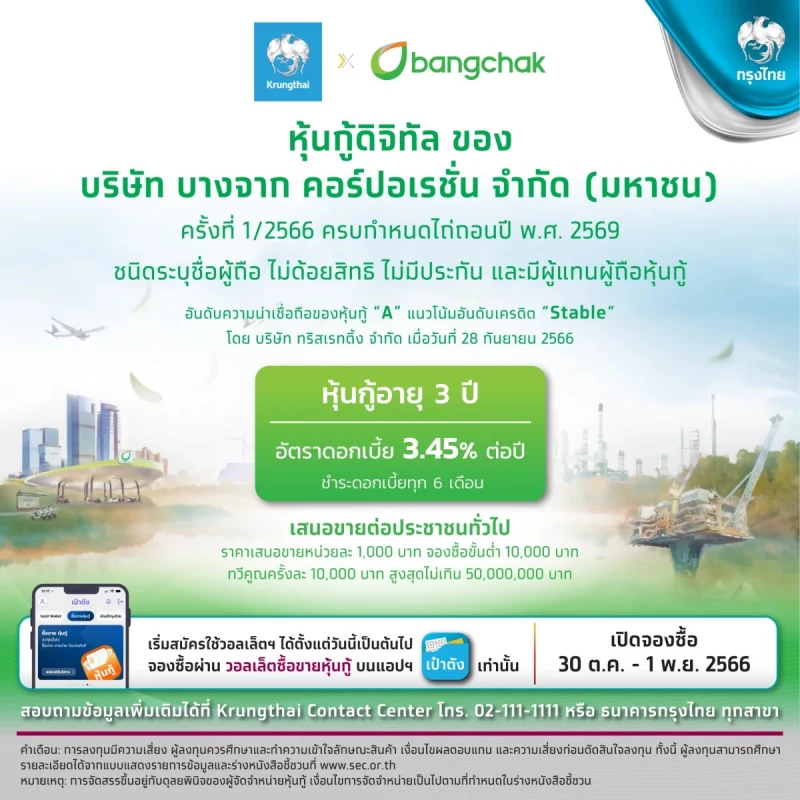 Bangchak Corporation Public Company Limited, and Krungthai Bank will offer the second "Bangchak Digital Debenture", a three-year investment with a fixed annual interest rate of 3.45%, worth THB 3 billion on the Digital Debenture Wallet function on the Paotang application from 30 October to
1 November 2023. Subscription will commence at 08.30 hrs. on 30 October 2023 until fully subscribed. The minimum subscription is THB 10,000, increasing in increments of THB 10,000, with a limit of more than THB 50 million per person. The subscription is on a "first come, first served" basis.
Bangchak Digital Debenture is specific-name bearer, unsubordinated, unsecured, and has a Debenture holders' representative, and assigned a credit rating of "A", stable by TRIS Rating on
28 September 2023. This rating reflects the strength of Bangchak's businesses, the synergies created following the completed acquisition of the majority shares in Esso (Thailand).
Investors can prepare to subscribe to Bangchak Digital Debentures by following these 4 steps.
Download the Paotang Application
Register the "Digital Debenture Wallet" on the Paotang application.
Complete the investment risk assessment form.
Link your deposit account and transfer funds to the account to subscribe to debentures.
Moreover, to facilitate investors subscribing to Bangchak Digital Debentures, Krungthai Bank has temporarily increased the fund limit on Krungthai NEXT. Investors can transfer or top up, up to THB 10 million per day to their Digital Debenture Wallets.
The purchase of debentures through digital channels allows investors to access real-time investments 24 hours a day. It is easy, convenient, and quick to invest, and transactions are executed promptly. Investors will receive debenture shares immediately upon purchase and receive money instantly upon sale. Additionally, the system will display information on debenture share ownership and sale prices all in one place, effectively catering to the savings and investment needs of the digital age.
Bangchak is a Leader in Energy Transition focusing on sustainable innovative business development in harmony with the environment and society to foster sustainability across all sectors. The goal is to ensure energy security for the country. Bangchak operates in five business areas, namely 1) Refinery and Oil Trading Business Group with a nameplate capacity of nearly 300,000 barrels per day (two world-class complex refineries, Bangchak Phra Khanong Refinery and Bangchak Sriracha Refinery. Both refineries are managed via Refinery Optimization and Synergy Enterprise (ROSE) for maximum efficiency. Additionally, the company has extended its presence into oil trading business via BCP Trading (BCPT), fuel transport business via Bangkok Fuel Pipeline and Logistics (BFPL), as well as investments in sustainable aviation fuel (SAF) via BSGF.2) Marketing Business Group delivers the Greenovative Experience through over 2,200 service stations and has expanded non-oil business through Inthanin Coffee, Furio lubricants, EV charging stations, as well as collaborations with diverse food partners. 3) Power Business Group which produces electricity from clean energy sources and leverages innovation to develop products and services that cater to consumers' energy needs while reducing environmental impact operated by BCPG, a leader in the Asia Pacific's renewable energy business. 4) Bio-Based Products Business Group, operated by BBGI, Thailand's leading producer and retailer of biofuels, which has expanded into bio-based High Value Products (HVP). 5) Natural Resources Business Group engaged in petroleum exploration and production through OKEA ASA in Norway, a country recognized for having one of the world's best environmental standards. Furthermore, the company is also engaged in New Frontier Businesses such as an e-motorbike rental platform business and set up Bangchak Initiative and Innovation Center (BiiC), to focus on new domestic and international businesses, as well as to build a green innovation ecosystem promoting green energy and bio-based innovation.
For more information, contact Krungthai Contact Center 02-111-1111 or any Krungthai Bank branch.