From the company's vision of "Evolving Greenovation – To be the Leading Asian Greenovation Group, founded on Good Corporate governance, through Inclusiveness and Sustainability" Stakeholder engagement is an important matter that the company has consistently implemented in accordance with the vision. Incorporating the information gained from conducting stakeholder engagement into strategic planning of the company is the way of doing it in addition to the framework and other strategic planning tools, such as business environment scanning, BIG Data, scenario assessment, and intelligent risks from risk assessment in order to respond to the needs and expectations of all stakeholder groups. It is also to be able to create a balance between profit and values in doing business for all stakeholders and to build good relationships as well as confidence between the company and the stakeholders.
Stakeholders Engagement Processes
Stakeholder identification and prioritization by considering the 3 following criteria
What groups of stakeholders are involved with the company's business operations?
Whether the company creates sustainability impacts to any groups of stakeholders?
Whether groups of stakeholders have influence to the company?
Working with stakeholders, there are important steps as follows:
Specify responsible divisions/departments for the stakeholder groups
Determining a systematic method to survey the needs and expectations of stakeholders and the operating frequency of the survey
Gathering information about the needs and expectations of stakeholders
Analysis and selection of materiality
Considering the importance of the issues concerning needs and expectations of the stakeholders in accordance with the context related to the impact, risk, opportunity and conformity with the organization's policies and goals, including the importance to stakeholders and to the organization
Results Processing
Proposing the analysis results to the Corporate Sustainability Policy Committee (SPC) in order to determine the direction of the sustainability operations and to create organizational strategies
The company has classified the 9 groups of stakeholders, including employees, suppliers/business partners, customers, shareholders, society and the community, media, creditors, government agencies and competitors (Disclosure 102-40) and has different ways to address to their needs and expectations.
Materiality Matrix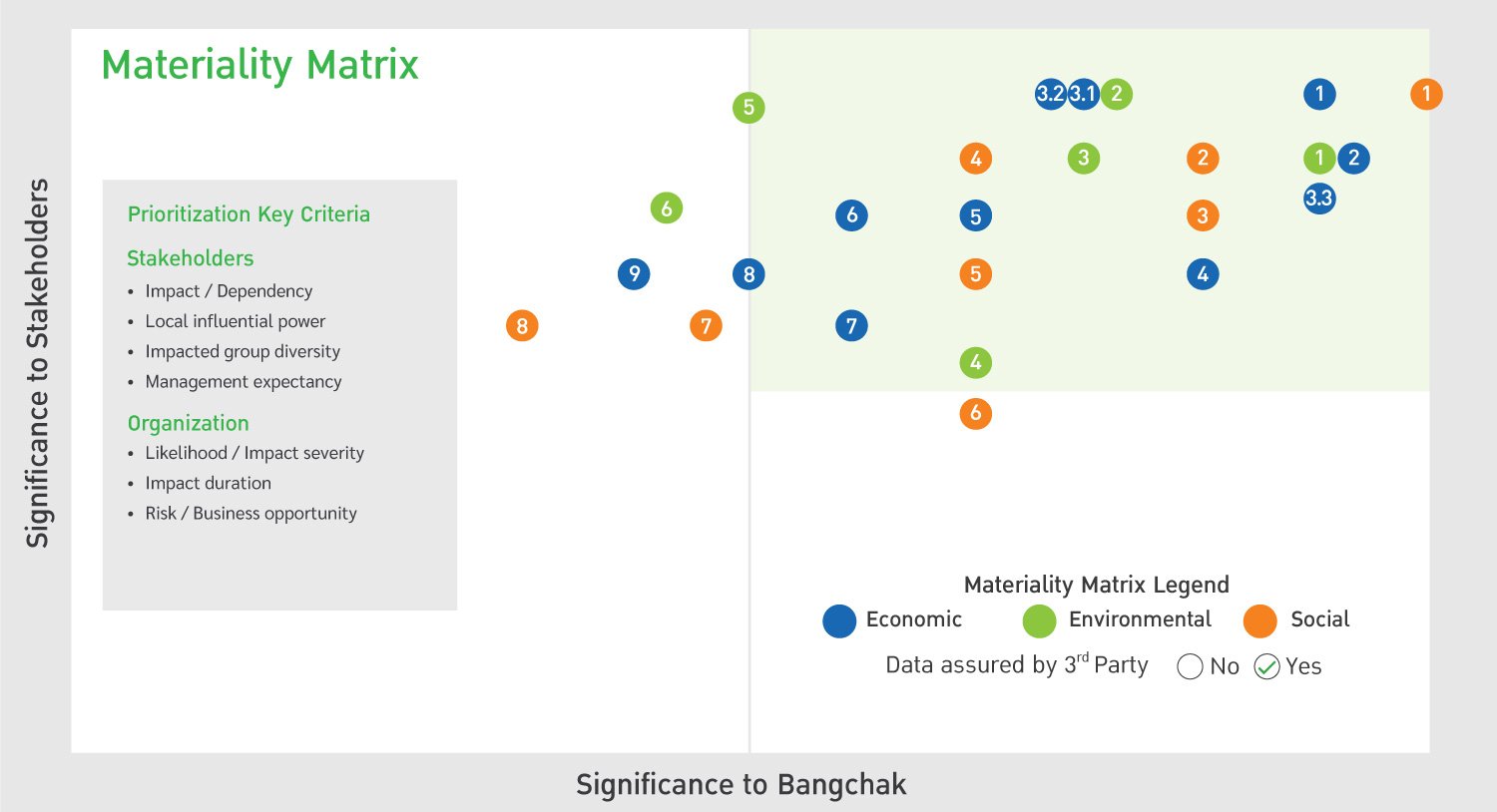 Economic (11 topics)
Sustainable financial growth
Legal compliance
3.1 Oil quality and development / 3.2 Service quality and development / 3.3 Anti-corruption
Risk management
Supply chain management
Non-oil variety
Oil loss
S/S convenience
Investor relation
Environmental ( 6 topics)
Energy consumption
Climate change
Water management
Spills
Air emissions
Waste management
Social (8 topics)
Occupational health and safety
Community involvement and development
Talent attraction and retention
Career path
Human rights
Social development
Human capital development
Fair operating practices