31 October 2023
Bangchak Thanks Investors for Their Support of "Bangchak Digital Debenture" for Mutual Sustainable Growth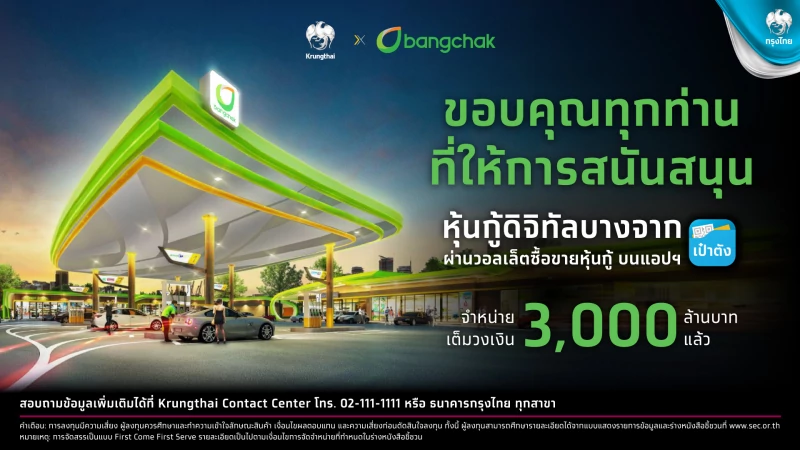 "Bangchak Digital Debentures" successfully fully subscribed THB 3 billion, reaffirming investors' confidence in the strong business position, potential, and growth opportunities of Bangchak, catering to investors with a focus on sustainable growth investments. Bangchak Corporation Public Company Limited
Phatpuree Chinkulkitnivat, Senior Executive Vice President, Accounting and Finance, Bangchak Corporation Public Company Limited revealed that the offering of the second "Bangchak Digital Debenture" through Krungthai Bank's Paotang application was well received. It attracted a substantial number of investors who fully subscribed to the THB 3 billion offering. This remarkable response reaffirms investors' confidence in the company, supported by Bangchak's strong business position, the synergies resulting from the acquisition of Esso (Thailand), as well as enhanced production efficiencies that contribute to sustainable growth. This series of Bangchak Digital Debenture is specific-name bearer, unsubordinated, unsecured, and has a Debenture holders' representative, and assigned a credit rating of "A", with a stable outlook by TRIS Rating on 28 September 2023.
"The Company would like to express our sincere appreciation to all investors for their trust and interest in Bangchak's digital debenture. We would also like to extend our thanks to Krungthai Bank for leading a smooth and successful debenture issuance. The company is delighted to offer an alternative investment option that allows investors to access opportunities fairly and equitably. Through this fundraising effort, Bangchak intends to utilize the capital raised to achieve maximum efficiency, ensuring sustainable strength in the future. We remain committed to balancing national energy security and transitioning to clean energy for the sustainability of all."
Rawin Boonyanusasna, Senior Executive Vice President Group Head, Managing Director, Global Markets Group, revealed that Krungthai Bank is dedicated to introducing new technology and innovation to create financial products and services that cater to the needs of both customers and the public sector. These digital channels are designed to be easily accessible, convenient, and secure. These developments are aimed at addressing the savings and investments needs of the Thai people, fostering sustainable financial stability. The successful issuance of the Bangchak Digital Debentures on the "Paotang" application mainly comes from investors' confidence in Bangchak, a leading energy business, coupled with the investment channel via the widely familiar and convenient "Paotang" application that allowed investors to access the THB 3 billion Bangchak Digital Debenture, justly and equally. Investors are spread throughout the country, with 63.3% in Bangkok, and 36.7% in other provinces, 63.9% were women, with investors ranging in ages from 20-91 years, but most prolifically among 20–40-year-olds with 25.24%, and those above 60 years accounting for 24.35%, reaffirming just and equal investment opportunities.
"The bank would like to thank Bangchak for the opportunity to be part of this success. The Bank is committed to introducing new technology and innovation to create financial products and services that meet the needs of customers and the public sectors through digital channels that are easily accessible, convenient, and secure. This initiative builds upon the success of digital investment tools, elevates the Thai capital market, and supports ongoing economic growth. It aims to enable Thai to access financial and investment services justly and equally, and equally, reducing inequality, and advancing with the achievement of the United Nations' Sustainable Development Goals (SDGs) focused on reducing inequality, and incorporating innovation to promote the sustainability of the Thai economy."