02 November 2023
Join Bangchak Group 13th Greenovative Forum "Regenerative Fuels: Sustainable Mobility" To Explore Sustainable Solutions for Future Transportation Trends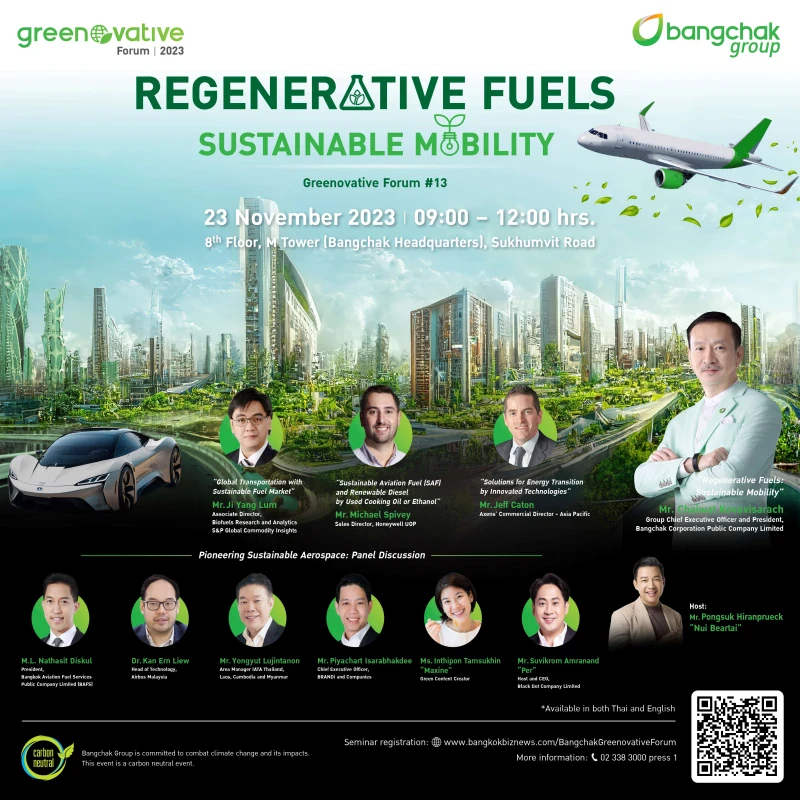 Bangchak Group invites you to the 13th Bangchak Group Greenovative Forum, titled "Regenerative Fuels: Sustainable Mobility". This event will showcase national and international trends in sustainable travel and future energy technologies that address energy and environmental concerns, on Thursday 23 November 2023, 09.00 – 12.00 at Baimai Hall, 8th Floor, M Tower, Head Office, Bangchak Corporation.
Chaiwat Kovavisarach, Group Chief Executive Officer and President, Bangchak Corporation Public Company Limited, will deliver the Keynote Address "Regenerative Fuels: Sustainable Mobility" along with prominent international speakers and experts from leading global organizations, including S&P Global Commodity Insights, Honeywell UOP, and Axens Group, who will update on critical issues regarding to the future fuels that will drive sustainable mobility. Additionally, a panel discussion on "Pioneering Sustainable Aerospace" will feature executives from BAFS, Airbus, IATA, and BRANDi and Companies, along with special guests Inthiporn Tamsukhin (Maxine), Green Content Creator, and Suvikrom Amranand (Per), Host and CEO, Black Dot Company Limited, and moderated by Pongsuk Hiranprueck, also known as Nui Beartai.
Since 2011, Bangchak has been organizing its annual seminar, inviting national and international experts to provide updates and insights on public pressing social, environmental, sustainability, and innovation issues. These topics have garnered attention from various sectors, including waste management, drought, water management, and the balance between energy security and sustainability.
For those interested, register at https://www.bangkokbiznews.com/BangchakGreenovativeForum