06 November 2023
UOB Bank Supports Bangchak Group's Energy Transition with Credit Facilities and Working Capital through Transition Finance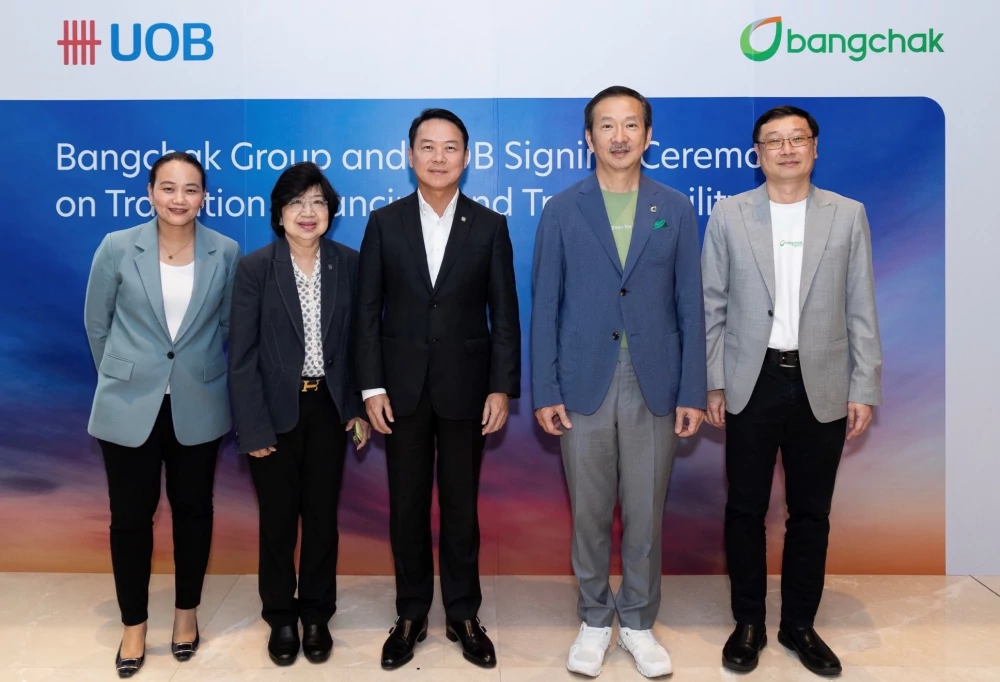 United Overseas Bank (UOB) provides financial support to Bangchak Group's efforts to drive the energy transition through UOB's Transition Financing Framework, totaling USD 290 million with an additional working capital of USD30 million, to Bangchak Corporation Public Company Limited, BCP Trading Pte. Ltd. (BCPT), and Esso (Thailand) Public Company Limited. Bangchak Corporation is the first company in Thailand to use UOB's Transition Financing Framework, which is designed to assist companies in their decarbonization journeys. This encompasses a wide range of transition activities, including the production of low carbon alternative fuels, enhancements in operational efficiency, carbon capture utilization and storage (CCUS) and participation in voluntary carbon credit programs.
Tan Choon Hin, President and Chief Executive Officer, UOB Thailand, stated "this collaboration between UOB and Bangchak will strengthen and deepen the long-standing relationship as financial partners. The financing support to Bangchak Group reflects the shared vision towards balancing growth with sustainability. Bangchak Group is a leader in Thailand energy industry, committed to driving the energy transition while balancing energy security. UOB is a leading bank for financial products and services that supports businesses in their transition journeys. In October 2022, UOB announced commitment to reach Net Zero across 6 sectors by 2050. The oil and gas industry is one of the sectors that comprise the energy value chain. UOB stands ready to support Bangchak Group in driving business growth alongside operations that are ever more environmentally friendly."
Chaiwat Kovavisarach, Group Chief Executive Officer and President, Bangchak Corporation Public Company Limited, stated "Bangchak Group welcomes the access to financing provided by UOB's Transitioning Finance Framework. As a leader in energy transition, Bangchak is committed to developing sustainable business innovation in harmony with the environment and society. Bangchak implemented the BCP316NET plan with the goal of achieving Carbon Neutrality by 2030, and Net GHG Emissions by 2050. The first part of the plan "Breakthrough Performance" (B) focuses on enhancing efficiency, work processes, reducing carbon emissions, and promoting environmental friendliness. This is tangibly reflected in various projects such as pioneering production of sustainable aviation fuel (SAF), and five refinery products from Bangchak Phra Khanong Refinery that have lower carbon dioxide emissions compared to the national average for the refinery business in Thailand. The financing support and working capital provided by UOB will help drive various Bangchak Group operations to transition to a low -carbon society, foster business growth alongside social and environmental sustainability."