10 November 2023
Bangchak Receives a 2023 SET ESG Rating of "AAA" Included in the Thailand Sustainability Investment Index for the Ninth Consecutive Year, while Earning an Excellent "5-Star" CGR Rating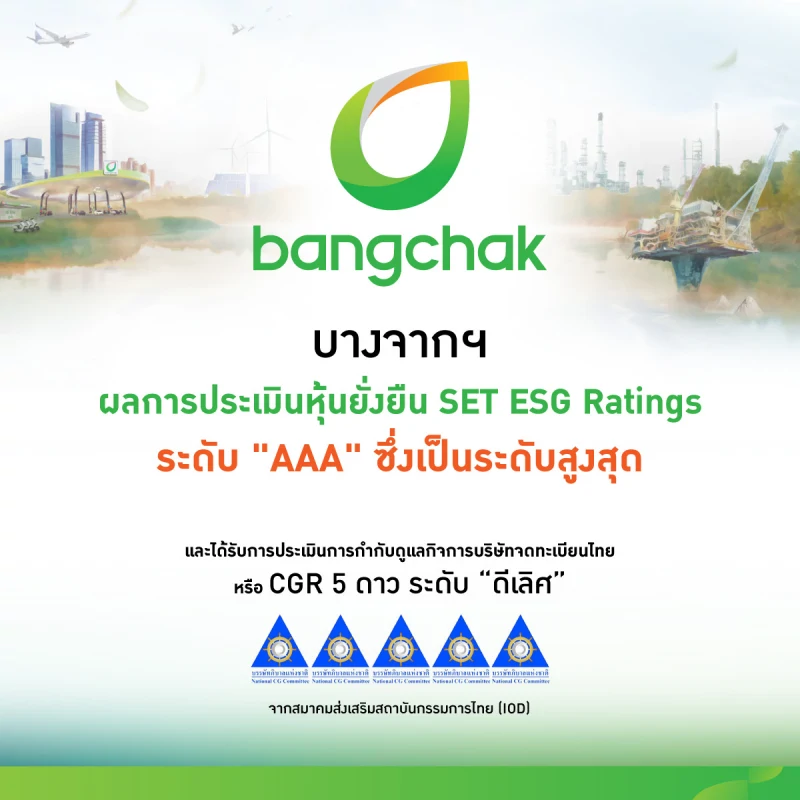 Bangchak Corporation Public Company Limited received a SET ESG Rating of "AAA" (total score 90-100), in the Resources Group, the highest in Thailand, from the announcement of the results of SET ESG Ratings 2023. This is the first year the assessment uses a rating system conducted by the Stock Exchange of Thailand. The results reflect the company's good corporate governance, consideration for shareholders and stakeholders, as well as a steadfast commitment to fostering sustainability in business, society, and the environment.
Moreover, Bangchak has been included in the Thailand Sustainability Investment (THSI) index by the Stock Exchange of Thailand. This recognition has been ongoing since the Stock Exchange of Thailand initiated the index in 2015, marking nine consecutive years of inclusion. This recognition positions Bangchak as a listed company emphasizing sustainable business operations, considering environmental, social, and governance (ESG) principles alongside operating business for the sustainable development of Thai society.
The "AAA" SET ESG Rating reaffirms Bangchak as an ESG Leader and reflects the company's success in driving sustainable strategies encompassing environmental, social and governance aspects for all stakeholders. Bangchak will continue in its commitment to responsible business operations by balancing various aspects to achieve sustainable growth in line with its corporate vision of "Crafting a Sustainable World with Evolving Greenovation."
Additionally, Bangchak received a 5-star Corporate Governance Report (CGR) rating of "Excellent" from the Thai Institute of Directors (IOD) and the highest AGM Checklist - AGM Organizing Quality Assessment, receiving a perfect score of 100 points (5 medals) from the Thai Investors Association. Bangchak was one of 60 listed companies to attain both a 5-star and 5-medal rating from 800 listed companies in the Stock Exchange of Thailand.