13 November 2023
Bangchak Group Executives Share Experience on the Journey to Decarbonization with Mitsubishi Motors Cooperation Council (Thailand) (MCC)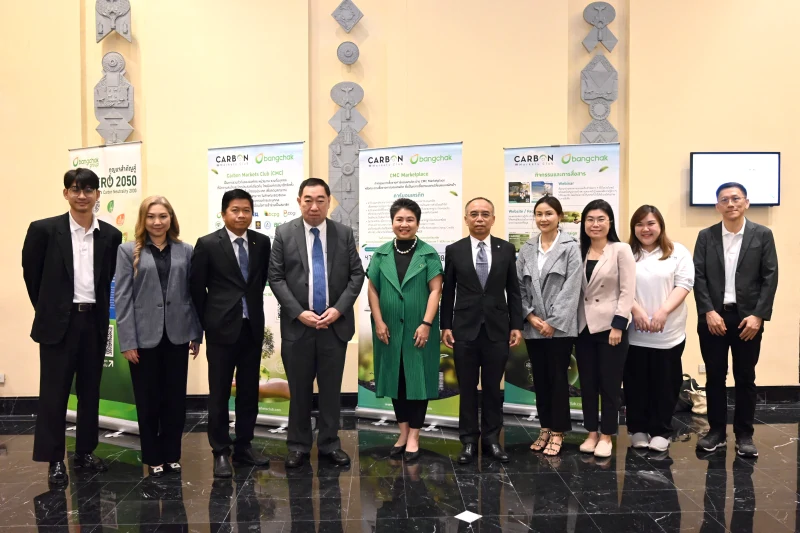 Gloyta Nathalang, Executive Vice President, Corporate Branding, Communication and Sustainability Activation, Bangchak Corporation Public Company Limited, as Chairperson of Carbon Markets Club, was the keynote speaker on "Bangchak Group's Journey to Decarbonization" at the Mitsubishi Motors Cooperation Council (Thailand): MCC. Noboru Tsuji, Chairman of the Board, Eiichi Koito, President and CEO, Eiji Ogawa, Senior Executive Vice President, Mitsubishi Motors (Thailand) Company Limited along with executives from Mitsubishi Motors (Thailand) Company Limited and over 300 members of the Mitsubishi Motors Cooperation Council (Thailand) participated in the event held at Novotel Bangkok Suvarnabhumi Hotel.
Gloyta discussed Bangchak's approach to decarbonization towards achieving the goals of carbon neutrality by 2030, and Net Zero Greenhouse Gas Emissions by 2050 through the BCP 316 NET plan. The plan includes breakthrough performance, conserving nature and society, proactive business, and fostering the creation of a Net Zero ecosystem, as well as the establishment of Carbon Markets Club to promote carbon credit trading and accelerate the transition towards clean energy. Moreover, Bangchak Group executives also shared information regarding operation greenhouse gas emissions reductions and offsetting strategies with carbon credits, Carbon Border Adjustment Mechanism (CBAM) as well as natural carbon sequestration, along with a demonstration of the Carbon Footprint of Organization tool for Carbon Markets Club members.
The event also featured an exhibition on Carbon Markets Club, which was initiated and jointly established by Bangchak, currently with more than 700 individuals and organization members. The club continues to raise awareness of global warming and promote carbon credit trading. Interested individuals and organizations were invited to join the Club.