24 December 2019
Bangchak Group Continues its Innovation-Driven Business Development, Social & Environmental Responsibility in Pursuit of Sustainable Growth as Thailand's Bioeconomy Leader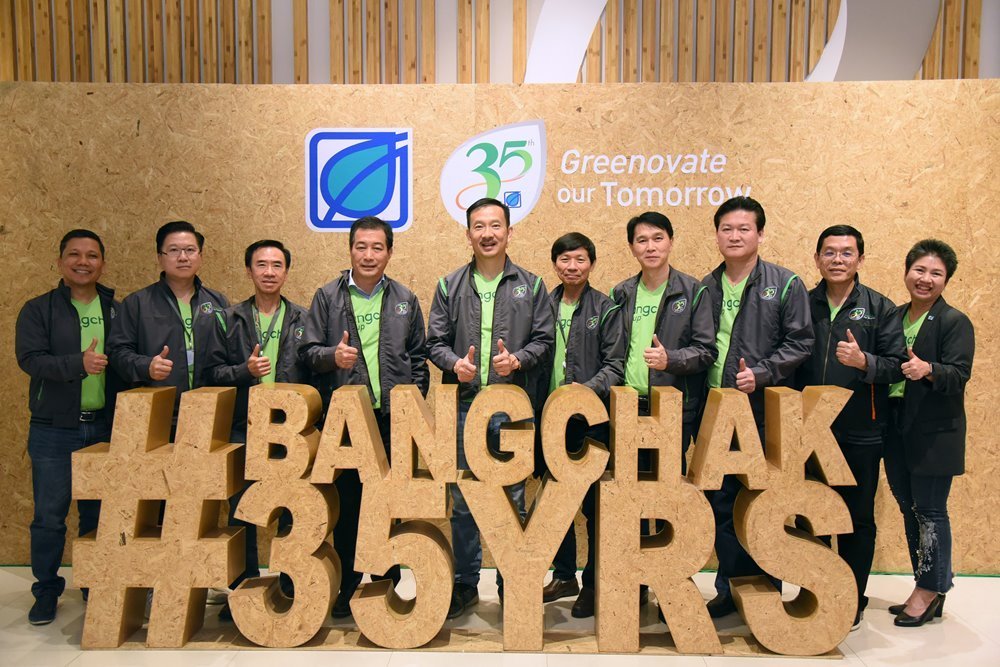 Bangchak CEO unveils five-year strategy, Bt50billion investment plan and the goal of raising EBITDA by 2.5 times within 2024. Under the strategy, innovations will be used to develop green businesses on a continued basis in line with BCG (Bio – Circular – Green) Economy Model. BBGI of Bangchak Group will enter the Thai stock market in 2020 in a move that will strengthen the group's position as the country's bioeconomy leader. Bangchak Group, moreover, plans to set up SynBio Academy in support of BioInnovation-business development in Thailand, and launch "Bangchak WOW" project to take care of the society and environment in Bangkok's Bangchak area as well as in the towns where Bangchak Group's businesses are based on a sustainable basis.
Mr. Chaiwat Kovavisarach, chief executive officer and president of Bangchak Corporation Public Company Limited, says Bangchak Group on the overall has been affected by the world's volatile oil prices. At present, the world's oil industry has been on the downward trend in the face of global economic slowdown that results from the Chinese – US trade war. Between 2018 and 2019, refinery industry including Bangchak has thus had a slower business. However, Bangchak Group has already prepared a five-year strategy (2020 – 2024) to boost its potential, increase its business opportunities, and also raise its efficiency. Prescribing the investment of Bt50 billion, this strategy aims at increasing Bangchak Group's EBITDA (Earnings Before Interest Taxes Depreciation and Amortization) by 2.5 times within the next five years.
Refinery Business: In 2019, Bangchak Group's refinery size is at 112,500 barrels per day on average. The amount reached a historic high in September 2019, averaging at 123,500 barrels a day. Bangchak Group has now set its sight on boosting its refinery size on a continued basis and has intended to ensure its average refinery size stands at 120,000 barrels per day by 2020. A research shall be conducted to bring Bangchak Group's refinery in line with Euro5 emission standards too. Bangchak Group expects the efforts to be completed by 2023. Placing an emphasis on safety and energy-usage reduction, Bangchak Group strives to ensure that its refinery is modern, safe, and environmentally friendly. Also, Bangchak Group intends to cut its expenses by at least Bt900 million a year by 2020 through the implementation of the Rocket initiative that has improved refinery operations and processes.
Oil Distribution by BCP Trading Company Limited: Operating results have improved from the previous year. Not only that the firm has sold bigger volumes of crude oil/products, but it has also got many new business partners. BCP Trading aims to raise its sales of crude oil/products to 250,000 barrels a day from 68,000 barrels a day with Out-Out Trading (procurement & distribution that are done overseas only) accounting for half of its sales.
Marketing Business: In this field, Bangchak brand has been the No. 2 in terms of market share and enjoyed growing sales. In 2019, its market share has reached the highest ever at 16 per cent for the whole year and 16.5 per cent in September. Aside, the Bangchak brand has been the No. 1 brand among consumers based on the Net Promoter Score (NPS). Bangchak Group has now planned to boost its market share beyond the country's average to 18 per cent by 2024. Service development will be implemented on a continued basis so as to answer well to consumers' needs and to win their hearts. The development will cover customer relationship management and Brand-Loyalty building, which will be useful to service development. Moreover, digitalization will be deployed to create Greenovative Experience for service users. Bangchak service stations will get a Unique Design. The number of modern service stations will increase, with at least 60 more emerging on strategic locations across Thailand, while the number of Inthanin the Grocer" outlets will also rise to 860. In addition, Bangchak Group will expand its lube-oil distributor networks in overseas markets. Presently, Bangchak Group has already signed an agreement with the Provincial Electricity Authority for EV-Chargers installations. Under the agreement, at least 62 Bangchak service stations will be equipped with EV charges by 2021 as Bangchak Group pursues the Products-to-Services business model.
Green Power Business by BCPG Public Company Limited: From early 2019, BCPG has constantly developed its businesses. Through partnerships with some other leading firms, BCPG has presented energy innovations as alternatives to consumers. Its wind power plant project began commercial operations from April. BCPG has also acquired a hydropower plant in Laos in its bid to drive its business growth. Through the acquisition, BCPG has got its first hydropower plant and also a contract to produce 403.5 megawatt of electricity for sale. At present, BCPG has operated its businesses in five countries namely Thailand, Japan, the Philippines, Indonesia and Laos through four core technologies: solar powe, wind power, geothermal power and hydropower technologies. In pursuit of its sustainable business growth, BCPG has planned to raise its EBITDA by 15 per cent over the next five years (2020 - 2024) through the implementation of 4Es strategy:
Expanding: It seeks to grow BCPG's core businesses via large power plants by means of both Organic Growth, which focuses on increasing output of projects it has developed itself from the very beginning, and Inorganic Growth that is about business acquisition/merging;
Extending: It seeks to extend businesses in response to future energy trends, by stepping into new but related fields such as Digital Energy, Energy Storage, and LNG to Power;
Enhancing: It seeks to boost the capacity of BCPG's existing power plants and work processes for maximum efficiency; and
Evaluating: It constantly evaluates asset management through monitoring of operating results. BCPG will seek new business partners for its investment projects, if they look set to generate satisfactory returns.
Biobased Business by BBGI Public Company Limited: BBGI has already increased production capacity of its factory in Kanchanaburi's Bo Ploi district from 200,000 liters of ethanol to 300,000 liters a day, and from 930,000 liters of biodiesel a day to one million liters a day. In addition, BBGI has implemented a project to improve production efficiency and a project to construct pure-glycerin plant. BBGI is now Thailand's biggest biofuel business operator and has the potential to develop high-value bio-based products such as bioplastics and biomaterials. At present, BBGI has made preparations for the increased production and distribution of B100, B20 and B10 biodiesels in response to government policies and growing demand. Moreover, BBGI is set to raise funds via the stock market for opportunities to invest further in bioenergy businesses. Its upcoming listing in the stock market in 2020 will strengthen Bangchak Group's status as Thailand's bioeconomy leader.
Aside, BBGI has vowed to set up SynBio Academy through collaboration with government and private organizations based in not just Thailand but also overseas. The academy is expected to support the development of bio-innovation businesses in Thailand via training, conferences, and databases, etc.
Natural Resource Business: Bangchak Group has made solid preparations for electricity's imminent role as a key form of energy in the world. Once electricity becomes a major form of energy, batteries will become more important. Recognizing this fact, Bangchak Group has bought shares in Lithium Americas Corp., which operates an upstream business in the battery industry, and become the firm's second biggest shareholder. At present, Lithium Americas Corp. has already begun the first phase of its lithium production. The production capacity has now increased from 25,000 tons a year to 40,000 tons a year. Bangchak Group has won the right to get 6,000 tons of lithium for commercial distribution in 2021 – up from 2,500 tons a year in 2018. Such amount of lithium is high enough to power about 120,000 electric vehicles. Regarding petroleum exploration and production, Bangchak Group has done so via Norway-based OKEA Company Limited. OKEA has held rights over Yme and Grevling oil fields in the North Sea that will soon be opened for oil production. As a result, Bangchak Group can produce oil from five crude-oil sources with the combined capacity of 20 kboepd (thousand barrels of oil equivalent per day). Bangchak Group, moreover, has continued its searches for new crude-oil and energy sources.
Bangchak Initiative and Innovation Center (BiiC): It explores opportunities and invests in startups and researches through partnerships with external organizations in its bid to upgrade green-energy and bio-based businesses both in Thailand and overseas. In 2019, it invested USD8 million in bio-based businesses and USD9 million in clean-energy businesses. It also invested in some Thai energy startups.
Throughout its 35-year history, Bangchak Group has always accorded importance to social and environmental responsibility. It therefore has developed the "Bangchak Wow Model" as a framework to work with partners in both government and private sectors in Bangkok's Bang Chak area as well as zones that its businesses have operated both in Thailand and overseas. The model features: W = Well-being improvement, which seeks to raise quality of life of people in various aspects via waste management, community care, social enterprises, knowledge development for farmer groups, grassroots economy development, as well as development/distribution of community products; O = Oxygen enhancement, which covers forestation, tree planting, efforts to reduce the amount of PM2.5, and landscape improvement; and W = Water management that is about caring for rivers, canals and nearby areas such as the portion of the Chao Phraya River in front of the Bang Chak pier, the Bang Krachao area, the Bang Chak Canal, and the use of boats for removing oil spill along the Chao Phraya River, etc.
"Bangchak Group has operated its businesses based on 'Innovation Development for Sustainable Business, Environment and Society' and 'Evolving Greenovation' concept, as it keeps pace with the fast-changing world. Today, Bangchak Group's businesses have become more diversified, with operations active in many regions of the world. So far, given its big size, it will take time for Bangchak Group's transformation to deliver clear results. But I am confident with the strategy laid down and the cooperation from all executives, staff, and stakeholders, Bangchak Group will enjoy a sustainable future," Mr. Chaiwat concludes.