10 April 2020
Bangchak Retail Adjusts Strategy, Goes All Out for Online Distribution Delivers SPAR's Products, Inthanin Beverages via GRAB, GET, LINE MAN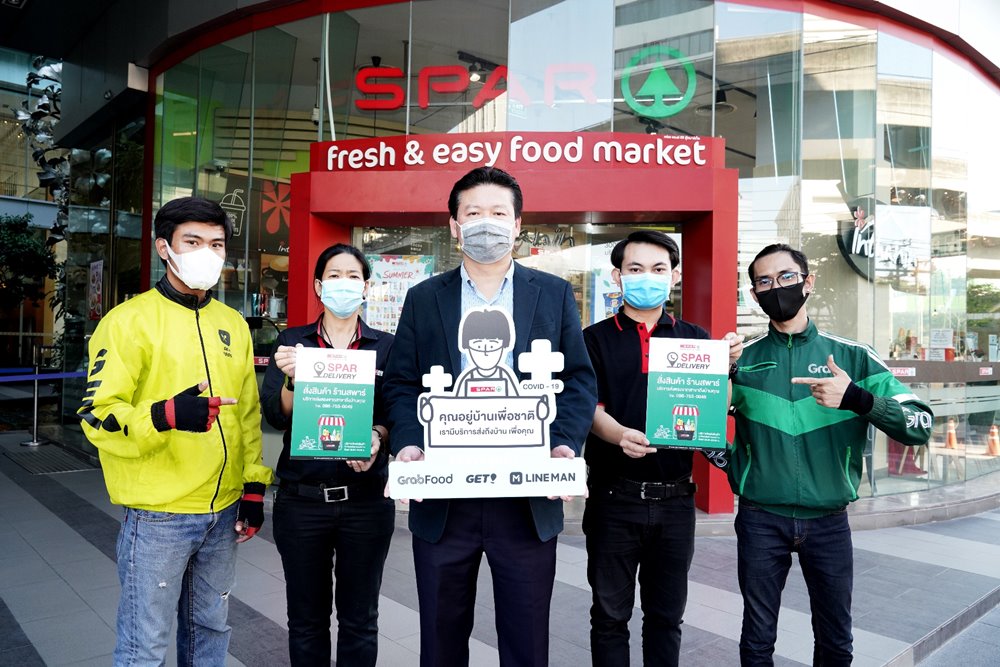 More than 200 branches of SPAR and Inthanin Coffee outlets have already introduced delivery services in support of Social Distancing. Not only that they engage in "You Stay Home for the Nation, We Do Deliveries for You" operations, but they also offer special promotions during people's Work-From-Home period.
Mr. Viboon Wongsakul, managing director of Bangchak Retail Company Limited, says while COVID-19 crisis hits several business sectors, food/product-delivery businesses have now enjoyed a big boom. He adds that Bangchak Retail, which operates retail businesses under Bangchak Group's umbrella, notices opportunities from the boom. In this aspect, Bangchak Retail's SPAR and Inthanin Coffee have long been partners of GRAB, GET and LINE MAN. GetFood, the youngest delivery-platform provider that celebrated its 1st anniversary in February, has even honored Inthanin Coffee with the Best Coffee Award at its Get Awards 2019 contest. In thanking all customers for their support, Mr. Viboon vows to deliver not just best products/services but also special promotions.
From April 1 to April 30, Inthanin Coffee offers a special breakfast set. In the set, customers get one free Surapon's Shumai pack or one free muffin for every purchase of two iced espresso cups with a Shumai pack or a Muffin piece. For those buying popular drink items of Thai Tea/Green Tea with Condensed Milk, they can get three such cups at just Bt90 – down from the normal price of Bt120 – between April 1 and April 19. On top of this, there is Buy 1 Get 1 Free for iced espresso bought between April 20 and 26. These tempting offers are available on GetFood. Users of GrabFood, meanwhile, can enjoy the Three Cups of Thai Tea/Green Tea with Condensed Milk at Bt90 between April 20 and May 4 plus many other tempting deals from Inthanin Coffee throughout May.
In addition to partnering with GRAB, GET and LINE MAN, SPAR outlets have now provided SPAR Delivery. Via this service, each outlet is ready to send ready-to-eat items, consumer goods, and money-saving products to customers' home when they place orders via Tel. 096 753 0049 between 8am and 8pm. Delivery fee is calculated based on distance. Deliverymen come from Lalamove network. As a special promotion, SPAR offers free deliveries in April and May when customers make a minimum purchase of Bt200 each time. If they buy at least Bt250, they will also get a cup of Inthanin's Lemon Tea worth Bt45 (For more information, please browse to www.sparthailand.com.
This April, SPAR has also launched its e-Commerce website or www.sparonlineshop.com. Customers who buy at least Bt400 from the website will get a 50ML alcohol-gel bottle for free. In its latest move, Bangkok Retail has unveiled SPAR and Inthanin Applications. These mobile apps can be downloaded from both Apple Store and Google Play. With these apps, customers can use either Click & Collect service, which enables them to quickly pick up their ordered goods from a specific branch. Delivery services from the apps will be available from May onward.
SPAR and Inthanin Coffee have operated their businesses under Bangchak Retail Company Limited. SPAR, which is affiliated with a Dutch retail brand, has had its outlets in more than 50 countries across the world. Thailand is the 44th nation to join SPAR network. After the first SPAR branch opened in Thailand in 2016, the country has now had a total of 44 SPAR branches. Inthanin Coffee, meanwhile, launched its first café in 2006. Presently, it has 600 branches in Thailand and eight branches overseas. Inthanin Coffee's business grew by 33 per cent in 2019, recording the total revenue of Bt1billion. It expects to raise the number of its branches to 1,000 by 2021.