11 August 2020
Bangchak Announces Operating Results from 2nd Quarter of 2020, Says Businesses Have Already Bottomed Out with Service Stations' Oil Sales Rebounding to 2019 Level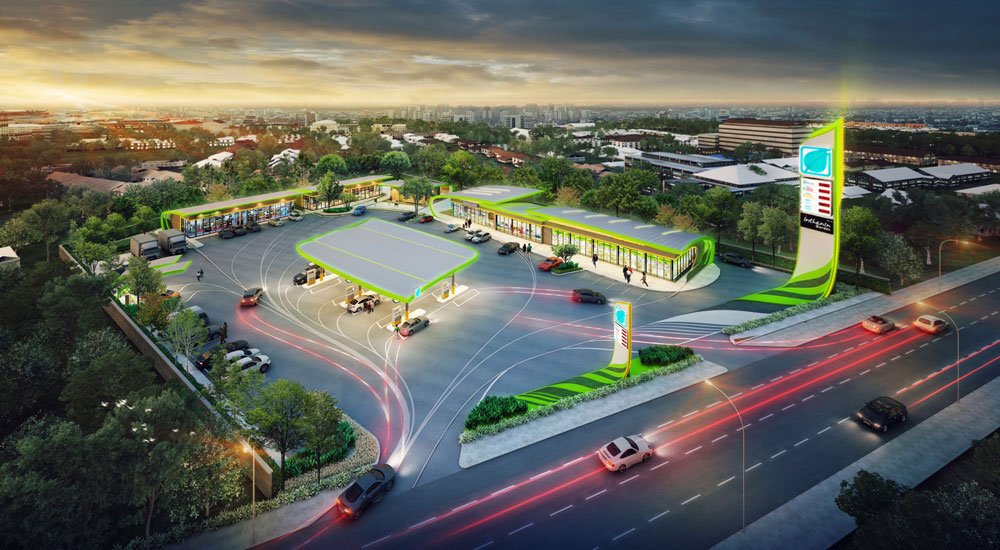 In the first half of 2020, Bangchak Group recorded the revenue of 69,665 million baht, the negative EBITDA of 1,415 million baht, the net loss of 6,571 million baht with the loss per share at 5.02 baht. The group's businesses, so far, have already bottomed out and started to recover from COVID-19 crisis. Its latest products 'Gasohol S EVO FAMILY' has won excellent response. As people have now mostly travelled via road trips, Bangchak service stations saw their sales rebounding to the 2019 level.
On 11 August 2020, Mr. Chaiwat Kovavisarach, chief executive officer and president of Bangchak Corporation Public Company Limited (Bangchak), says he believes that Bangchak Group's businesses have already bottomed out in regard to impacts from COVID-19 outbreak and the world's plunging oil prices. He points out that countries around the world have now eased lockdowns and travel restrictions. Governments have also launched economic-stimulus policies, which are expected to boost the industrial and transport sectors' demand for oil. Excess oil supply, meanwhile, looks set to reduce after the Organization of Petroleum Exporting Countries (OPEC) and allies agreed to curb oil production. With this agreement, oil prices look set to soar and spur oil-related businesses in the latter half of this year.
During the second quarter of 2020, Bangchak Group's businesses did better when compared with the first quarter. However, the Refinery Business still suffered from low crude oil prices and oil prices. The second quarter, moreover, saw businesses related to tourism industry such as airliners bearing the brunt of COVID-19 impacts. As a result, Bangchak and its subsidiaries earned 69,665 million baht from their sales and services in the first half of 2020. The amount dropped by 26 per cent from the same period a year earlier. EBITDA also had the negative growth of 1,415 million baht, down by 134 per cent when compared with the same period of the previous year. The net loss of the group's parent firm therefore stood at 6,571 million baht – marking a drop of 986 per cent from the net profit achieved by the same period a year earlier. The loss per share in the first half of 2020 was at 5.02 baht.
Regarding operating results during the second quarter of 2020 alone, Bangchak and its subsidiaries earned 26,594 million baht from their sales and services. The amount marked a drop of 38 per cent from the previous quarter. EBITDA, meanwhile stood at 1,131 million baht – up by 144 per cent from the first quarter of 2020 – with the Operating EBITDA of 2,645 million baht. Bangchak Group recorded the Inventory Loss of 1,725 million baht (including the loss from the adjusted Net Realizable Value of 1,635 million baht). When combined with the losses from the impairment of big trade-account receivables and assets as a result of Bangkok Group's change of retailing business model, the parent firm's net loss was at 1,911 million baht. The amount marked a 59-per-cent improvement when compared with the previous quarter but a 462-per-cent drop from the same period a year earlier. The net loss per share was thus at 1.50 baht.
All businesses of Bangchak Group already hit the rock bottom in April. While Refinery and Oil Distribution Business still faces the impacts of low refining margin as a result of the world's shrinking oil demand, it shut down its second refinery unit for two months between April and May. Its production volume thus decreased by 74 per cent or to just 89,300 barrels a day, which was suitable for Thailand's oil demand.
Marketing Business performed better in the second quarter of 2020 thanks to an Inventory Gain, as opposed to Stock Loss recorded in the first quarter. The sales of Marketing Business, so far, dropped because of lower demand from industrial market in the wake of COVID-19 outbreak. As the outbreak peaked in April, retailing sales dropped by 17 per cent during the month from the previous quarter. However, sales are now rebounding to a normal level as lockdown measures have been eased. Net marketing margin per unit has already risen after retail sales started soaring. Retailing, when compared with channels to sell products to industrial market, has had a higher marketing margin. Bangchak's market share of oil sold via service stations between January and June 2020 was at 15.6 per cent (information from the Department of Energy Business). Bangchak has continued its strategy to increase the number of service stations even though it has partially slowed down its investments in the face of the country's stagnant economy. At the end of the second quarter, Bangchak Group has had a total of 1,212 service stations.
Bangchak Group, moreover, has lately enjoyed the successful launch of Gasohol S EVO FAMILY. These new products have received excellent response from consumers. E20 S EVO has been upgraded as a premium product at the same old price in response to growing demand and the government's policy to push it as the country's standard petrol. In addition, Bangchak Group has recently started accepting Digital Payment. Integrating Mobile EDC Banking, Bangchak service stations have simultaneously enabled payments and reward-point collection giving additional convenience to consumers and answering well to consumers' New Normal cashless lifestyle. Regarding non-oil businesses, Inthanin cafés have continued their expansion. At the end of second quarter, there were 618 Inthanin branches.
Green Power Business recorded the EBITDA of 863 million baht in the second quarter, during which its power sales soared by 34 per cent from the previous quarter to 151.45 million kilowatts per hour. Power units sold are from a hydropower project in Laos and a solar-power project in Japan. The second quarter of 2020 marked the first quarter that the Laos-based "Nam San 3B" hydropower plant contributed to operating results for the whole three months.
Biobased Business, which produces and distributes biodiesel, performed 80 per cent better in the second quarter of 2020 when compared with the same period a year earlier as its B100 product prices significantly soared. The price increase stemmed from the fact that the government introduced measures to promote biodiesel usage and establish B10 as key petrol. Regarding the production and distribution of ethanol, operating results improved by 54 per cent from the previous quarter because the average selling prices of ethanal products increased in response to growing demand. During the second quarter, industrial-grade ethanol demand was solid in support of the production of alcohol gel and disinfectants. On the overall, ethanal-product sales in the second quarter increased from the previous quarter.
Natural Resource Business performed 105 per cent better in the second quarter from the same period a year earlier. It recognized a share of profit from an associated company, OKEA, even though the latter's revenue dropped in the face of COVID-19 impacts on oil/natural gas prices and maintenance downtime of Draugen manufacturing base whose scheduled downtime was moved from September to late June. While OKEA sales lowered, it recorded the profit from currency exchange in the second quarter as the Norwegian currency (NOK) strengthened against US dollar and impairment provision dropped.
The Bangchak Initiative and Innovation Center (BiiC), meanwhile, has continued its support for startups and researches for innovations so as to drive Bangchak Group's business development. Moreover, BiiC has encouraged Bangchak Group's staff to explore ways to boost their organization's growth. At present, BiiC is in the process of reviewing new startups after its launch of Winnonie. Launched in July, Winnonie promotes green electric motorcycles as a way to upgrade taxi motorcyclists' quality of life.
"Bangchak's vision has now evolved from Greenergy Excellence to Evolving Greenovation, reflecting development direction that has pursued green innovations in recent years. As a result, we have now enjoyed greater balance of our diversified businesses. Signals suggest our businesses will rebound in the latter half of 2020 when compared with the first half. But we will not be complacent. We will continue to implement measures to control cost and investments so as to minimize any negative impact, keep adequate cash flow, and urgently find New S-Curve businesses for sustainable growth. Today, our businesses have started to rebound with better cash flow for smooth business operations," Mr. Chaiwat concludes.