11 Feb 2021
Bangchak Enters Dow Jones Sustainability Index (DJSI) Shines in The Sustainability Yearbook 2021 with Bronze Class Distinction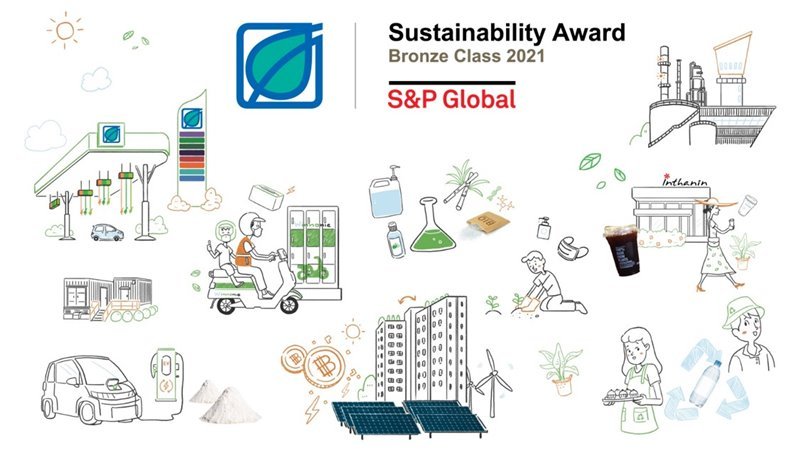 Bangchak Corporation Public Company Limited (BCP) has earned the Bronze Class distinction from DJSI's Sustainability Leaders 2021 category for Oil and Gas Refining and Marketing. The accolade is confirmed in the The Sustainability Yearbook 2021 of S&P Global as well as Robeco SAM's Dow Jones Sustainability Index (DJSI)
Mr. Chaiwat Kovavisarach, President and CEO, Bangchak Corporation said "Bangchak ranks in the top 5, 4th of 31 leading companies in the Oil and Gas Refining and Marketing and was ranked Bronze Class distinction in S&P Global's Sustainability Yearbook 2021. The report which is available through Yearbook Ranking Website and S&P Global Scores Website identifies companies that create great value in environmental, social and corporate governance areas. Throughout the period of over 35 years of its operations, the company has been committed to responding to all stakeholders with transparency and integrity to build confidence in long-term cooperation.
This recognition is an encouraging development that underlines the efficiency and sustainable development in the organization. As a leader in greenovation for sustainability which focuses on developing sustainable business innovation in harmony with the environment and society. We are very proud to be part of this Sustainability Yearbook and be recognized for our commitment in sustainability.
2020 was a very challenging year for Bangchak Group as we were impacted by COVID-19 and global oil price fluctuation. But with good management system, preparedness and risk management system, we were able to stand firm and to maintain the standard of conducting business effectively while meeting the needs of consumers.
Mr. Manjit Jus, Global Head of ESG Research, S&P Global: "We congratulate Bangchak Corporation on its Bronze Award in The Sustainability Yearbook 2021, which showcases the best performing companies among industry peers and in terms of financially material ESG metrics. With over 7,000 companies assessed, an inclusion in the yearbook is a true statement of corporate sustainability excellence."
Bangchak has participated in the DJSI assessment based on business operation and sustainable organizational development, covering environmental, social and corporate governance aspects, for seven years. This year, Bangchak received a score of 83 and was ranked 4th among Thai companies in the Oil and Gas Refining and Marketing sector. As a result, it is included in the Sustainability Yearbook 2021 which considered over 7000 companies assessed in the 2020 Corporate Sustainability Assessment (CSA), whereby only 630 sustainability leaders were selected for this year's Yearbook based on their S&P Global ESG Scores.