31 March 2021
15 Years of Bangchak GreenMiles Spread Happiness, Fulfill Greenovative Destination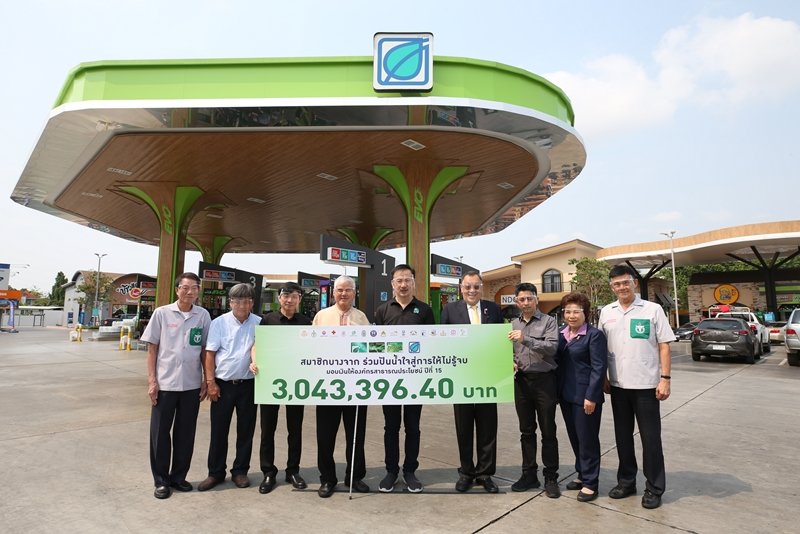 Bangchak GreenMiles, the first loyalty program for service stations in Thailand, has celebrated its 15th anniversary now. Embracing the Greenovative Destination concept, it has offered happiness and convenience in everyday life on top of various privileges. Moreover, Bangchak GreenMiles has allowed its members to donate to charity/environmental organizations with their reward points. Their donations, together with contributions from Bangchak, has soared above Bt3 million in 2020.
Mr. Chaiwat Kovavisarach, chief executive officer and president of Bangchak Corporation Public Company Limited, says Year 2021 marks the 15th anniversary of Bangchak GreenMiles. Launched as the first loyalty program for service stations, Bangchak GreenMiles has pursued Greenovative Destination concept in spreading happiness, offering convenience in people's daily life, and giving privileges so as to ensure its members enjoy best value of money. Bangchak GreenMiles, moreover, has happily connected its members to charity causes by offering to turn their reward points into donations to public benefit organizations.
In 2020, Bangchak GreenMiles members' donations, when combined with contributions from Bangchak, was well over Bt3million. The donations have provided fund to 16 organizations, which have advanced the causes of children, the physically challenged, patients, animals, and the environment. These 16 public benefit organizations are:
Phramongkutklao Foundation
Princess Mother's Medical Volunteer Foundation
Ramathibodi Hospital
Thai Red Cross Society
Ban Bang Khae Foundation under Royal Patronage
Seub Nakhasathien Foundation
Rural Doctor Foundation
Child Protection Foundation
Universal Foundation for Persons with Disabilities
World Vision Foundation of Thailand
Dhammaraksa Foundation (AIDS patient care at Phrabatnampu Foundation, Lop Buri province)
Thailand Hornbill Research Foundation
Pavena Foundation for Children and Women
Foundation of National Disaster Warning
Children and Youth Foster Home of Phrakhruba No Khemmapunyo
Bai Mai Pan Suk Foundation
This year, the number of public benefit organizations in Bangchak GreenMiles program rises to 17 with the addition of the Rajavithi Foundation. To support these charity organizations, members of Bangchak GreenMiles just need to activate "Boon (Merit) Basket" on Bangchak Mobile Application or www.bcpgreenmiles.com to turn their reward points into financial donations. Reward points come from their payments for petrol at Bangchak service stations or products at Bangchak's Inthanin cafes and FURiO Care center. Members may choose a public benefit organization of their interest as a default whenever they use Boon (Merit) Basket feature. But they can also choose any public benefit organization on a one-time basis too. This is how Bangchak has leveraged innovations in giving convenience to its customers. Lately, Bangchak has introduced Digital Payment system to facilitate contactless payments and register reward points all at the same time. Moreover, it now offers unique promotion of "Reward Point to Cover Petrol Hike". This differentiated promotion gives Bangchak GreenMiles members the right to claim reward points at the same value of the difference between petrol prices charged yesterday and today. For more information on members' privileges, visit Bangchak Mobile Application or www.bcpgreenmiles.com.