28 June 2021
Bangchak Group Forms "Carbon Markets Club", with 11 Founding Member Organizations. A First for Thailand, Promoting Carbon Credit Trading to Reduce Greenhouse Gases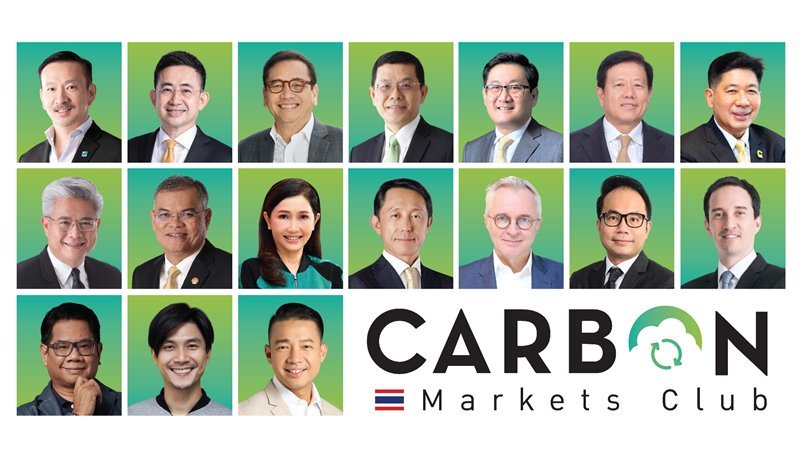 Bangchak Group, comprising Bangchak Corporation, BCPG, and BBGI, invited leading organizations to jointly establish the Carbon Markets Club in an online memorandum of understanding signing ceremony. A first for Thailand, the club supports carbon credit and Renewable Energy Certificate (REC) trading to reduce greenhouse gases toward a Net Zero society, with leading environmentalists also purchasing personal carbon credits to offset their daily carbon footprint.
Chaiwat Kovavisarach, President and Chief Executive Officer of Bangchak Corporation Public Company Limited, stated that the well-known effects of climate change have brought countries around the world together in an effort to keep global temperature increase below 1.5°C to 2.0°C, relative to pre-industrial levels. The energy transition from fossil fuels to green or clean energy is vital in this endeavor, but there has been limited progress and, in reality, fossil fuels will remain with us for many more decades. In order to succeed, green technology and innovation requires the support of governmental measures or tax incentives.
Carbon trading is a critical part of addressing this challenge. Entities or organizations that emit or benefit from heavy industry or use fossil fuels will incur increased costs through carbon credit purchase or alternative taxation, where the collected capital will be used in investment of green industries. New non-tariff barriers from various countries, such as the European Green Deal, provide capital for renewable energy development. The Carbon Markets Club will enable us to meet these challenges and foster new trade opportunities.
Today's online MOU signing ceremony among the eleven founding members of the Club brings together leading Thai organizations who are committed to reducing the effects of carbon emissions through carbon trading. The founding member organizations are: Bangchak Corporation Public Company Limited, Electricity Generating Authority of Thailand (EGAT), BCPG Public Company Limited, BBGI Public Company Limited, Charoen Pokphand Group Company Limited, Shell Company of Thailand, KASIKORNBANK Public Company Limited, Bank of Ayudhya Public Company Limited, Tetra Pak (Thailand) Company Limited, Bangkok Industrial Gas Company Limited, and BTS Group Holdings Public Company Limited.
These founding members of the Carbon Markets Club are committed to support, raise awareness, and promote carbon credit trading through Thailand Voluntary Emissions Reduction Program (T-VER) by the Thailand Greenhouse Gas Management Organization (TGO) and the Renewable Energy Certificate by the Electricity Generating Authority of Thailand (EGAT). They have set out to develop the current over-the-counter mode of trade into a digital platform that is convenient and modern, supports e-registration with registration and accreditation agencies, promotes e-carbon trading, and integrates Blockchain trading technology - which is gaining in popularity - to support decentralized finance.
Today, the Club was congratulated by executives from the Stock Exchange of Thailand (SET), The Federation of Thai Industries (FTI) and the Thailand Greenhouse Gas Management Organization (TGO), who will help support the future participation and growth of the network to include listed companies and companies in the Federation of Thai Industries from numerous sectors.
Moreover, the Club's Founding Members also participated in carbon trading transactions, both T-VER and REC, and joined by leading environmentalists Dr. Thon Thamrongnawasawat, marine scientist, Piphat Apiruktanakorn, environmentalist, and Pongsuk Hiranprueck, moderator and presenter of #Beartai, who have purchased personal carbon credits to offset their daily greenhouse gas emissions, to raise social awareness that carbon trading is not limited only to organizations and companies. Everyone has a carbon footprint created by the emission of greenhouse gases in our daily lives, and everyone can help to reduce its effects by leading a low carbon lifestyle and offsetting emissions by buying carbon credits. The event recorded transactions of 2,564 tCO2e, the equivalent of planting about 298,140 trees or 1,491 rai of forest. Revenues from the transactions will be used by BCPG and EGAT to fund environmental programs.
Chaiwat concluded "I believe that today's MOU is the first step that every person and every organization can take to cooperate and promote carbon credit trading at the organization and personal level, which will help pave the way towards a Net Zero society for a better world".