03 September 2021
"Read and Write with Ease" Program by Bangchak's Bai Mai Pun Suk Foundation Awarded the Asia Responsible Enterprise Awards (AREA) 2021 for Investment in People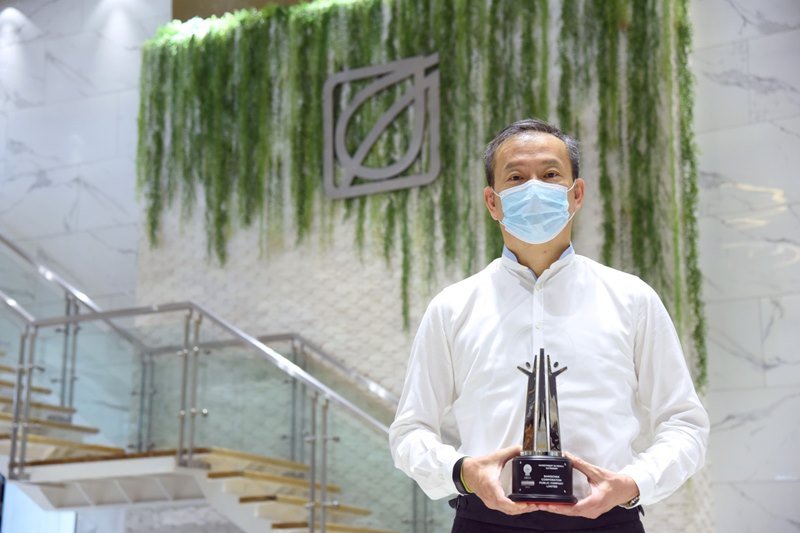 Chaiwat Kovavisarach, President and Chief Executive Officer of Bangchak Corporation Public Company Limited received the Asia Responsible Enterprise Awards (AREA) 2021 from Enterprise Asia for Investment in People for its "Read and Write with Ease Program" managed by Bangchak's Bai Mai Pun Suk Foundation in a Virtual Awards Ceremony on 2 September 2021.
The "Read and Write with Ease Program was founded by Bangchak to address the importance of addressing illiteracy amongst youths which is a national problem that requires ongoing efforts to resolve. The program is a joint effort by Bangchak, the Bai Mai Pun Suk Foundation, Assistant Professor, Siwakarn Patoommasoot and Ajarn Naiduangta Patoommasoot, poet and academic from the Tungsak Asome Learning Center, through a systematic and tangible approach to addressing illiteracy. The system was researched and tested with students in Bangkok and the provinces and has shown progressive results for over a decade.
Bangchak introduced the program to schools in the Bangchak refinery communities and areas with Bangchak Group operations, and later expanded the project across the country. As of 2020, with the COVID-19 outbreak, the methodology has been adjusted to online platforms, focusing on year 1 students, and training educators to facilitate the curriculum online, expanding the reach of the program nationwide.
Since the program started, more than 600 educators have been trained, reaching about 9,000 students, from 200 schools across 44 provinces. The program found that students in the program saw an improvement of 66% from 2019, compared to the 48% in 2014, helping to address the national illiteracy issue, and complementing the achievement of the United Nation Sustainable Development Goal 4 on inclusive and equitable quality education.
The Bai Mai Pun Suk Foundation was established by Bangchak in May 2017 to carryout out public good with the main objective of supporting youth education, the conservation of natural resources and the environment, and improving the quality of life for Thai society.
AREA is an regional Asian award organized by Enterprise Asia, an independent organization supporting, promoting and developing corporate responsibility in Asia for sustainable development, with the objective of honoring Asian businesses and leaders with outstanding social and environmental responsibility and sustainable development.