02 November 2021
Bangchak's Invitation to Annual Seminar "Exponential Path to Net Zero" on 18 Nov. Addressing the need for exponential responses to global warming. seminar offers 100 participants to be "Carbon-Free"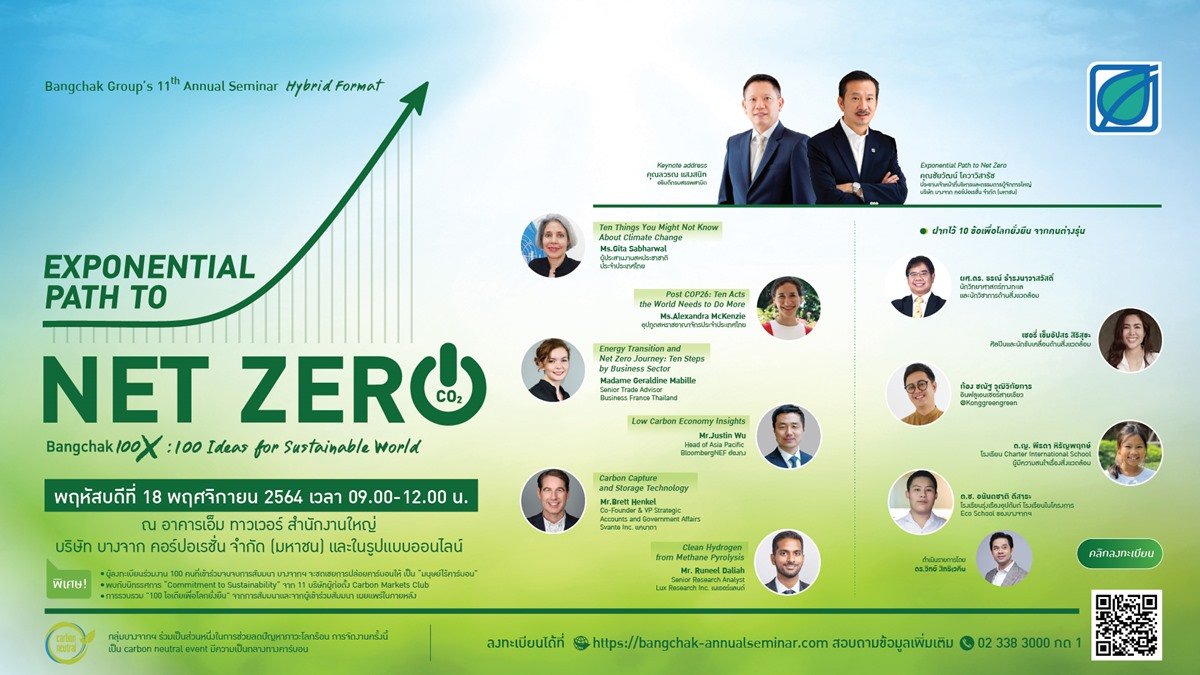 Bangchak Corporation Public Company Limited invites you to its 11th Annual Seminar titled "Exponential Path to Net Zero: Bangchak 100X – 100 Ideas for a Sustainable World" on Thursday 18 November 2021 from 09:00 – 12:00 hrs. in a Hybrid Conference for those interested in finding answers and solutions to exponentially achieving Net Zero GHG emission target, featuring a keynote address from the Excise Department Director-General, along with updates on global trends and technologies from experts around the world, the opportunity for 100 participants to become "Carbon-Free".
With its commitment in developing business in harmony with the environment and society, Bangchak has organized an annual seminar on environment, innovation and sustainability since 2011. In 2021, the Company which will be entering its 38th year, has set a target to be a sustainable organization of over 100 years "Bangchak 100x", and the 11th annual seminar "Exponential Path to Net Zero" under the concept "Bangchak 100X: 100 ideas for global sustainability" will be a collective quest to finding answers and solutions to achieving exponentially achieving Net Zero.
Chaiwat Kovavisarach, Bangchak President and Chief Executive Officer of Bangchak, along with speakers and experts from around the world would reflect on the action taken by countries, organizations, and individuals following the 2021 United Nations Climate Change Conference (COP26) in Scotland, including Lavaron Sangsanit, Excise Department Director-General, United Nations Resident Coordinator in Thailand, the Charge d'Affaires of the United Kingdom in Thailand, as well as an update on global trends from BloombergNEF, and cutting-edge Carbon Capture and Storage and Clean Hydrogen from Methane Pyrolysis technologies from international experts.
Furthermore, the seminar will also feature suggestions and solutions for a sustainable world from different generations led by Asst. Prof. Dr. Thon Thamrongnawasawat, environmental academic, Cherry – Khemupsorn Sirisukha, artist and environmental activist, Kong – Chanut Wutwikaikan (@KongGreenGreen), environmental content creator and influencer, as well as an exhibition "Commitment to Sustainability" from 11 founding companies of the Carbon Markets Club to showcase joint commitments to sustainable development.
For those interested, register at https://bangchak-annualseminar.com which will be held simultaneously at M Tower, Bangchak Head Office (limited capacity) and streamed online, and 100 registered participants who stayed for the entire seminar, Bangchak will offset their carbon emissions to become "Carbon-Free". The 100 ideas for a sustainable world collected during the seminar will later be publicized through various media channels.