03 December 2021
Bangchak, Bai Mai Pun Suk Foundation and SCG Chemicals launch "Rak Pun Suk Junior" inviting schools nationwide to manage waste according to Circular Economy principles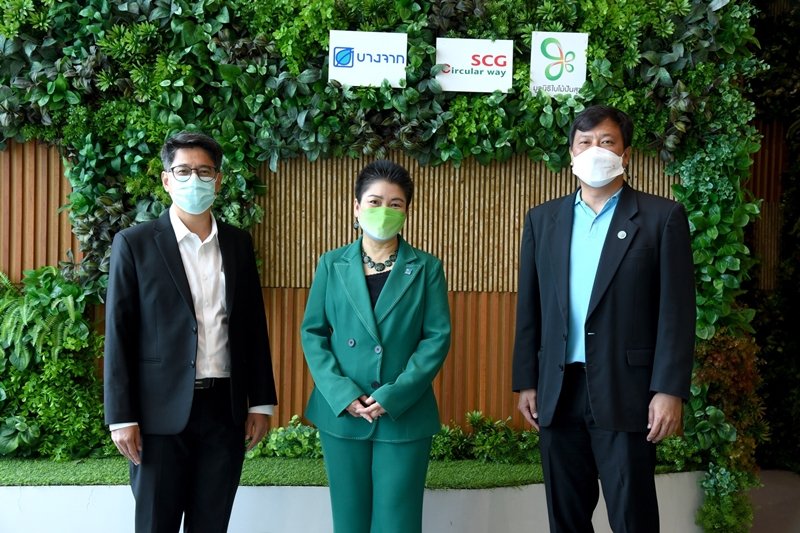 Bangchak Corporation Public Company Limited joins the Bai Mai Pun Suk Foundation and SCG Chemicals Company Limited to launch the "Rak Pun Suk Junior" campaign, a pilot project for waste management in schools and community according Circular Economy, featuring online courses for administrators and teachers from 40 schools from Bangchak refinery communities and the Bai Mai Pun Suk school network across the country, and a panel discussion with business sector partner, Tetra Pak (Thailand) Company Limited, to promote of the practical approaches and plan to achieve tangible results.
Gloyta Nathalang, Executive Vice President, Corporate Sustainability, Branding, and Communication, Bangchak Corporation, stated that the "Rak Pun Suk Junior" campaign expands on the collaborative results of the "Rak Pun Suk" project that Bangchak and SCG Chemicals have worked together over the past two years, collected used lubricant containers for reproduction and repurposing used water bottles collected from consumers into new products through a recycling process. The company and the Bai Mai Pun Suk Foundation, a charity organization initiated by Bangchak, supports youth educational and environmental programs in hopes of cultivating circular economy practices among youth through an integrated approach to school waste management, promoting responsible use of resources, knowledgeable of everyday waste management, aligned with community and environmental indicators under the Sustainable Development Goals (SDGs) to ensure that communities have access to good environments, have income from waste management, and better quality of life.
Sakchai Patiparnpreechavud, Vice President, SCG Chemicals stated that "SCG Chemicals and Bangchak has continually promoted circular economy through the successful campaign to recycling lubricant containers to create new containers. The "Rak Pun Suk Junior" campaign, brings the companies together for society once again, not only addressing United Nations Sustainable Development Goals (SDGs), it is aligned with the concept of ESG (Environmental, Social, and Governance) which is important to SCG Chemicals. SCG Chemicals initiated enterprise-wide and community-level waste management under the "Waste Free Community" campaign centered on households, temples, schools and community waste management facilities through the KoomKah application which assists in waste bank management. To this collaboration, SCG Chemical shares its knowledge of materials science and integrated waste management to further develop the reach of the program with Bangchak and the Bai Mai Pun Suk Foundation through the "Rak Pun Suk Junior" campaign to cultivate among Thai youth a responsible attitude towards resources and proper waste management, which is at the heart of the circular economy that will allow a variety of materials to be circulated and create new value, as well as mitigate adverse effects on climate."
"Bangchak and the Bai Mai Pun Suk Foundation would like to thank SCG Chemicals, campaign partner, joining to promote circular economy in schools. This is an important move to promote the creation of a national waste management strategy, that can be further implemented at the family and community level in accordance with BCG Economic Principles (Bio-Circular-Green-Economy), which is a national agenda that the government actively promotes. Following the 40 schools participating in the orientation and submitting their applications, we will announce the names of schools selected to participate by mid-December 2021 before training commences" Gloyta concluded.
The campaign launch of "Rak Pun Suk Junior" was honored by speakers from Bangchak, SCG Chemicals, and Tetra Pak (Thailand) discussing the circular economy, and shared waste management strategies with participants.