04 January 2022
Bangchak Expands into Fuel Pipeline Transportation and Logistics Businesses covering executive rights over the fuel pipeline transportation 'Bangkok-Bang Pa-in Terminal' totaling 99 KM.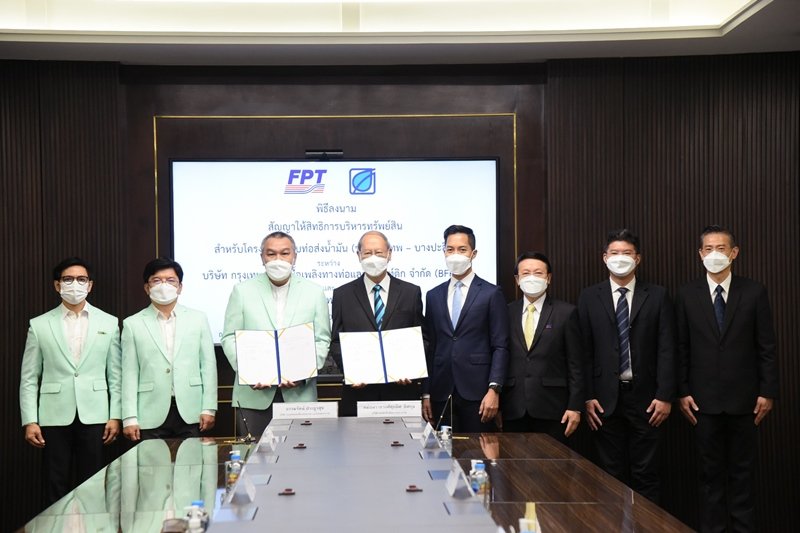 Bangchak Group has expanded its business to fuel pipeline transportation and logistics network, investing THB 1,600 million through Bangkok Fuel Pipeline and Logistics Company Limited (BFPL) for rights over the pipeline network capacity and executive rights over the pipeline and terminal systems of Fuel Pipeline Transportation Limited (FPT), including gasoline and diesel pipelines from Bangchak and other customers in Bangkok to the oil terminal in Bang Pa-in, Ayutthaya province, as well as aviation fuel depots at Suvarnabhumi and Donmuang airports. This will not only reduce costs and increase revenue, but also reduce carbon emissions from vehicular transport and mark the first step of investment towards low carbon businesses, supporting Bangchak's sustainable growth in harmony with the environment and society; an all-important move towards low carbon business.
Mr. Chaiwat Kovavisarach, President and Group Chief Executive Officer, Bangchak Group stated that the Group invested THB 1,600 million to expand its business into fuel pipeline transportation to strengthen and stabilize Group businesses through the acquisition of executive rights over the 99 kilometer fuel pipeline system from Fuel Pipeline Transportation Limited (FPT) through the Bangkok Fuel Pipeline and Logistics Company Limited, established this year, as a wholly owned subsidiary of Bangchak Corporation Public Company Limited.
The executive rights to the fuel pipeline system that BFPL will operate is the 99-kilometer Bangkok - Bang Pa-in pipeline (Bangkok - Bang Pa-in 69 kilometers, and aviation fuel pipeline 30 kilometers), which includes gasoline and diesel pipelines between Bangchak refinery, other oil depots, Bang Pa-in oil terminal, aviation fuel (JET) pipeline to Suvarnabhumi and Donmuang airports, and gas pipelines into Bangchak Biofuel Company Limited (situated in Bang Pa-in, Ayutthaya province) for a duration of 20 years, estimated to take effect from 1 January 2022 to 31 December 2041.
This investment to expand into logistics will create many opportunities, with commercial potential helping to reduce fuel transportation costs, reduce loss during shipping, making it easier to calculate and control than transport by truck, and presents another source of revenue. Furthermore, it reduces carbon emissions and accidents associated with car transport, in line with Bangchak's vision that emphasizes sustainable innovative business development in harmony with environment and society
"Fuel pipeline transportation will become an important opportunity that will give Bangchak Group sustainable and stable growth, because fuel pipeline transportation not only offer the enhanced stability and flexibility to Bangchak in transporting fuel to the Central, North, and Northeast regions efficiently, but also the strategic link with fuel transportation pipelines in the North. Significantly, this will mark the first step of our low-carbon business investments towards the goal of Bangchak Group's Net Zero in 2050."
"BFPL was established with the objective and operations to cover all activity relating to fuel transportation to create a synergy between all logistics-related activities, ready to service all sectors for the highest common good, and to provide consumers with quality fuels at optimum costs. BFPL has commenced executive rights to the fuel pipeline and terminal systems from 1 January 2022." Mr. Chaiwat concluded.