07 March 2022
Bangchak Receives First Runner-Up UN Women 2021 Thailand WEPs Awards The Only Thai Company in the Gender-Inclusive and Workplace Category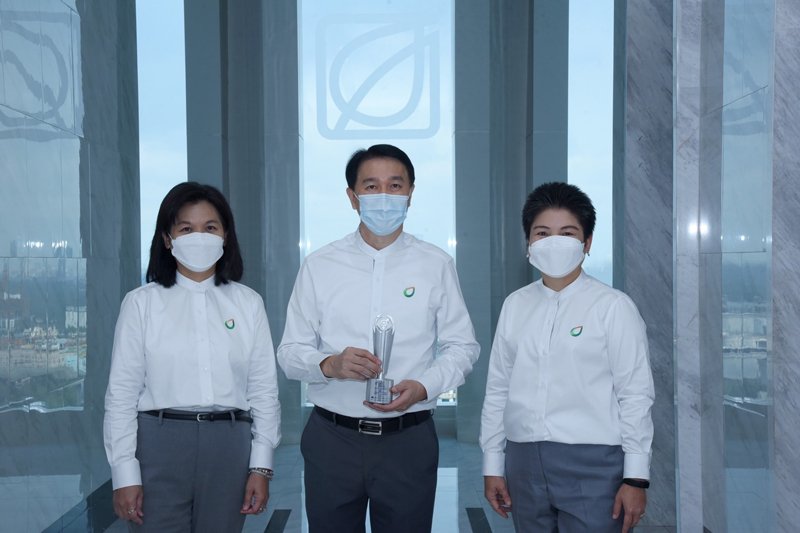 Chokchai Atsawarangsalit, Senior Executive Vice President, Corporate Management and Organization Development, and executives of Bangchak Corporation Public Company Limited received the First Runner-Up UN Women 2021 Thailand Women's Empowerment Principles Awards (WEPs) in the Gender-Inclusive and Workplace Category by actively engaging principles of gender equality and diversity in the workplace, and promoting the inclusion and role of women in the business sector. Bangchak is the only Thai company to receive an award in the category, with the winner being Microsoft (Thailand) Limited, and the second runner-up being Novartis (Thailand) Limited.
Furthermore, Bangchak also awarded the Honourable Mention for Community Engagement and Partnership category for its policies supporting Refinery community engagement to advance women's rights and objectively engage in community development with the "Khun Jaew Clean Service" campaign, supporting career development opportunities for women in the Bangchak Refinery communities to provide professional cleaning services for residential areas such as private houses, condominiums, and other areas that require such services.
The UN Women 2021 Thailand WEPs Awards, recognizing 6 main categories, organized by UN Women and the European Union is the first WEPs Awards in Thailand emphasizing the role of private organizations in promoting gender inclusivity according to the Women's Empowerment Principles, which are the 7 principles that promote the role of women in business and ensure gender equality leading to sustainable corporate and economic growth.
Moreover, Bangchak expressed its intent to promote and join the WEPs network recognizing the importance of diversity and gender equality in organizational strength and promote genuine inclusivity in the workplace aligned with the National Action Plan (NAP) and the UN Sustainability Development Goals SDG Gender Equality / SDG16: Peace & Justice and SDG17: Partnerships for the Goals from the UN Women 2021 Thailand Women's Empowerment Principles Awards (WEPs).