22 March 2022
Bangchak Confident BBGI is Flagship for Sustainable Growth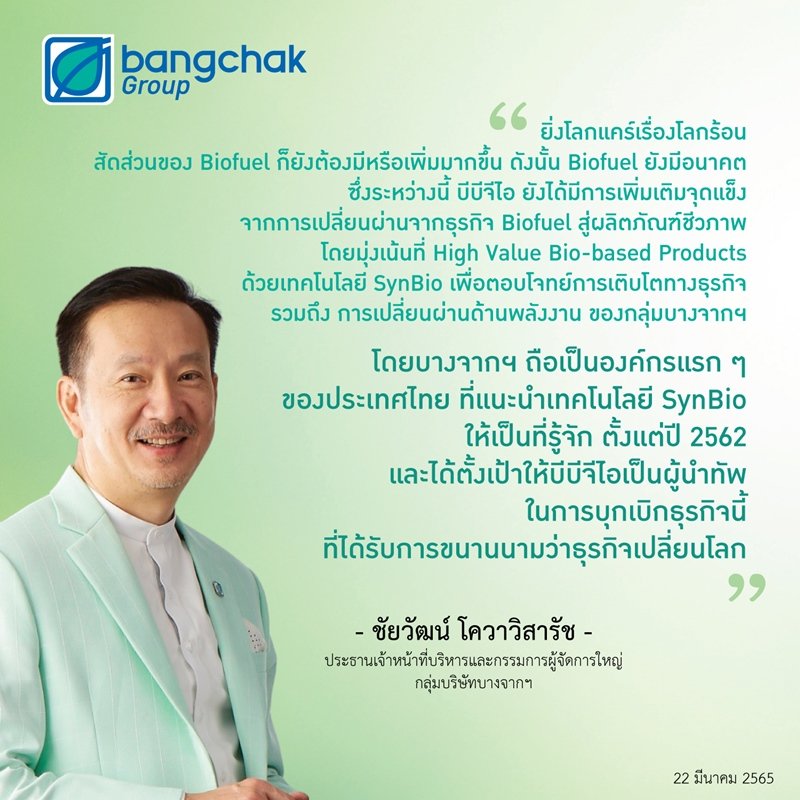 Bangchak is confident that BBGI PLC. is Bangchak Group's flagship for sustainable growth, from its foundation as one of the nation's leading bio-based energy business incorporating SynBio technology to develop Thai agricultural products into high-value bio-based products aligned with the megatrend for health products around the world, as well as providing a New S-Curve for green businesses to realize Bangchak Group's Net Zero target.
Chaiwat Kovavisarach, President and Group Chief Executive Officer, Bangchak Group, stated Bangchak Group conducts business by integrating green innovation in business and sustainable development, a Bio-Circular-Green or BCG leader, which as the Leader in Energy Transition is targeting Carbon Neutrality by 2030, and Net Zero emissions by 2050, making the increase in green business investments critically important. BBGI is a New S-Curve green biotechnological business which will be integral in convincing people around the world to reduce consumption of products produced from fossil fuels, reaffirming Bangchak's confidence that BBGI will become a flagship for sustainable growth and revenue for Bangchak.
As the world is engaged in addressing global warming, the proportion of bio-based energy will remain integral or even increase, therefore bio-based energy businesses remain a critical business and still has a future. During this time, BBGI, the nation's bio-based energy leader has enhanced its strengths by shifting from bio-based energy to Bio-Based Products specializing in HVP (High Value Bio-based Products) utilizing SynBio Technology addressing the business growth and energy transition of Bangchak Group."
Bangchak, is considered the first Thai organization to introduce SynBio Technology to the general public at its annual seminar in 2019, with topic "SynBio Forum 2019", and set the target of having BBGI spearheading this revolutionary business.
"SynBio is an important green innovation, comparable to laboratory farming, helping various industries, especially the food industry, reducing areas dedicated to animal production, and directly reduces emission of greenhouse gasses into the atmosphere, which not only adds value to agricultural goods, which remain the foundations of the country, but is also a critical business with high growth potential, aligned with the developing megatrend for products for health and wellness, which greatly expanded globally following the improving COVID-19 situation" Chaiwat concluded.