28 March 2022
Bangchak Switches Off for 60+ Earth Hour 2022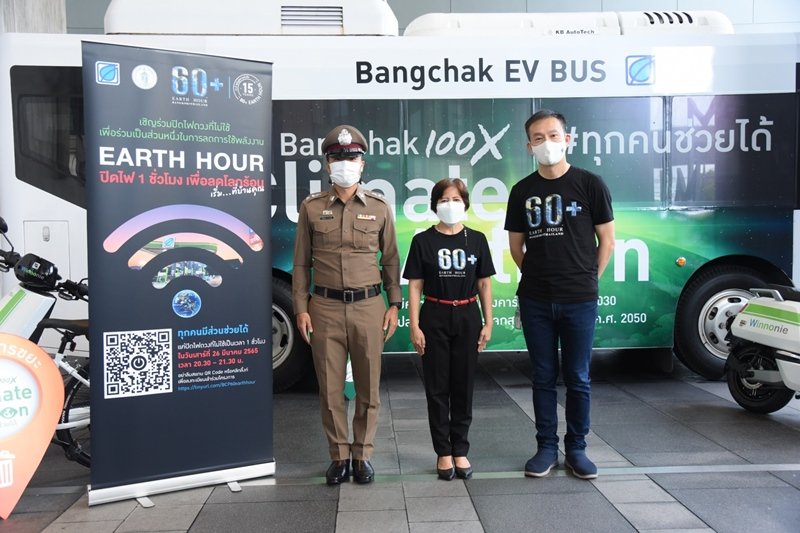 Chaiwat Kovavisarach, President and Group Chief Executive Officer, Bangchak Group, and Varunluks Polaharn, Phra Khanong District Director, joined in to switch off lights at Bangchak Head Office, M Tower, and buildings along the Phra Khanong section of Sukhumvit Road to raise awareness among people and businesses to switch off unnecessary lights and adopting energy conserving behaviors.
On 26 March 2022, Gloyta Nathalang, Executive Vice President, Corporate Branding and Communication, Bangchak Corporation Public Company Limited participated in the 60+ Earth Hour 2022 activities held at the Chong Nonsi Skywalk, Sathorn District, with Bangchak among the coalition of private organizations supporting the activity, encouraging the public, businesses, shops, and organizations to reduce energy consumption by switching off unnecessary lights for 1 hour, from 20.30 – 21.30, along with over 7,000 cities around the world to raise awareness for energy conservation and emission-reducing practices to address the causes of global warming.
Simultaneously, Bangchak service stations throughout the country switched off the lights of all Highway Signs and Bangchak Group buildings during the aforementioned period.
In addition to expressing its intent to address global warming by participating in the 60+ Earth Hour 2022, Bangchak Group also set its 2022 targets with the "Bangchak 100X Climate Action: Everyone Can Help" campaign, which will communicate and implement energy conservation measures and activities that are conducive with long term climate action through 2022. This can be separated into 4 dimensions, specifically 1. Public transportation or travel; using Winnonie E-motorcycles and EV to reduce fuel consumption, 2.Energy; Reducing Bangchak Group electricity consumption in its Head Office, and reducing energy consumption in the refining process, 3. Green Space; Planting vegetable gardens in the Head Office sky garden and other operation areas, and 4. Waste Management; Organizing refused-waste campaigns in collaboration with N15 Technology, to raise awareness to separate waste that cannot be recycled for proper processing, and proper waste segregation and management.
Bangchak targets Carbon Neutrality by 2030 and Net Zero GHG Emission by 2050.