29 March 2022
Inthanin Continues "Cups for Saplings" Year 3 Presenting 1 Million Bio-Cups to the Royal Forest Department for Sapling Cultivation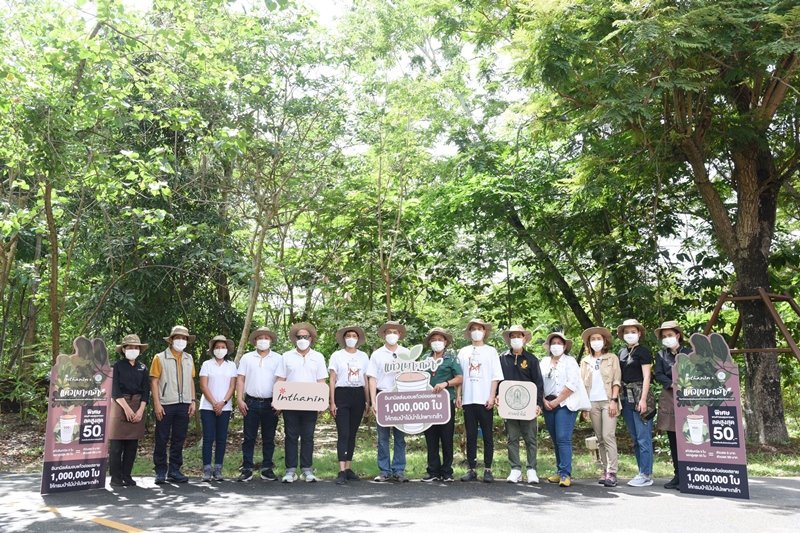 Inthanin strengthen partnerships to create ECO Value Chain to convert coffee back into forests, continuing the "Cups for Saplings" campaign presenting 1 Million Bio-Cups to the Royal Forest Department for sapling cultivation for the International Day of Forests, and introducing new ECOLIFE partner in 2022.
Seri Anupantan, Managing Director, Bangchak Retail Company Limited stated that "The Cups for Sapling campaign is a source of pride for Inthanin, fulfilling our brand concept of reducing plastic usage and being environmentally friendly in all dimensions. The campaign is possible through the cooperation of all parties, which we would like to thank all our partners, making it possible to invite our customers to present 1million Bio-Cup to the Royal Forest Department, and we will continue this campaign with the same dedication in being an green coffee brand leader emphasizing conscientious consumption, the winner of the Eco Package award, and the largest consumer of bio-cups in ASEAN.
The "Cups for Saplings" campaign requires a large volume of bio-cups, whereby Inthanin received the cooperation of customers in collecting used-cups for discounts. The cups are then collected by the cooperation of the manufacturer (Vandapac Co., Ltd.), and placed in storage (Integrated Logistics Services Co., Ltd. or ILS) assisting the collection of bio-cups from Inthanin locations across the country before being sent to the Royal Forest Department (Bureau of Reforestation Promotion), which will utilize Inthanin's single-use plastic Bio-Cups to create renewed value being used to cultivate saplings to revitalize forest land. Lastly, potential environmentally conscious franchisees looking for investment opportunities or landlords considering opening and operating a coffee brand that uses biodegradable materials and integrated recycling campaign is a good option. Inthanin's "Cups for Saplings" campaign truly contributes to the Circular Economy from the collaboration of the entire value chain.
In addition to the core partners, we also have new green partners like ECOLIFE under the direction of Khun Top (Piphat Apiraktanakorn) and Khun Noon (Siraphun Wattanajinda), an application supporting Green Community which launched in 2019 at the same time as the "Cups for Saplings" campaign, and have the opportunity to work together this year."
Piphat Apiraktanakorn, stated that "the original of ECOLIFE is to reduce the volume of single-use plastics by allowing customers to scan ECOLIFE QR Code to collect points, but due to Inthanin cups being bio-compostable, ECOLIFE members are entitled to points with every cup, and even better, double their points by redeeming Inthanin beverages in the Cups for Saplings campaign, with 10 ECOLIFE equivalent to a THB 10 discount for Inthanin beverages. On behalf of ECOLIFE, I would like to thank my thank Inthanin for being an authentic green coffee brand which can be seen by everyone today, and am delighted to be a part of the Cups for Saplings campaign, and other Inthanin initiatives in the future. I would like to invite everyone to support, follow, and encourage this collective effort."
The Cups for Saplings campaign was founded through the cooperation of Bangchak Retail Company Limited and the Royal Forest Department to mark International Environment Day in June 2019 to reduce plastics bags used in sapling cultivation by using Inthanin's Bio-Cup, 100% produced from plants, and naturally bio-compostable, with the pilot period encouraging customers to return Inthanin cups to be presented to the Royal Forest Department, between October – December 2019 (5 used Inthanin cups for a THB 5 discount). Inthanin received over 20,000 cups for the Royal Forestry Department during the Thai Environment Day in December 2019. At its latest inception, customers returned more than 1,000,000 cups for the Royal Forest Department.
As such, Inthanin organized a presentation ceremony with the Royal Initiative Project and Special Affairs Office on the International Day of Forests 21 March 2022 with Noppadol Puwawimol, Head of Khuean Khan Green Area and Eco-Management Center, partners, and employees joining in reforestation activities to revitalize the Bang Kachao green space as the lung of the city.
Presently, Inthanin Coffee, managed by Bangchak Retail Company Limited, under Bangchak Corporation Public Company Limited operates more than 850 branches nationwide, with 550 located inside Bangchak service stations, and 300 stand-alone locations. In 2020, Inthanin was received the Thai Star Packaging Awards: ECO Package Award based on 2020 data that Bangchak Retail Company Limited was the largest user of naturally compostable bio-plastics in ASEAN following the concept "1 cup of Inthanin is not just coffee, but conscientious consumption, environmental responsibility with Inthanin Natural Cup, Your Inthanin for Our World."