11 April 2022
Bangchak organizes the Annual General Meeting 2022 as a Zero Emissions e-Meeting, Approving the Second 2021 Interim Dividend Payment on 22 Apr.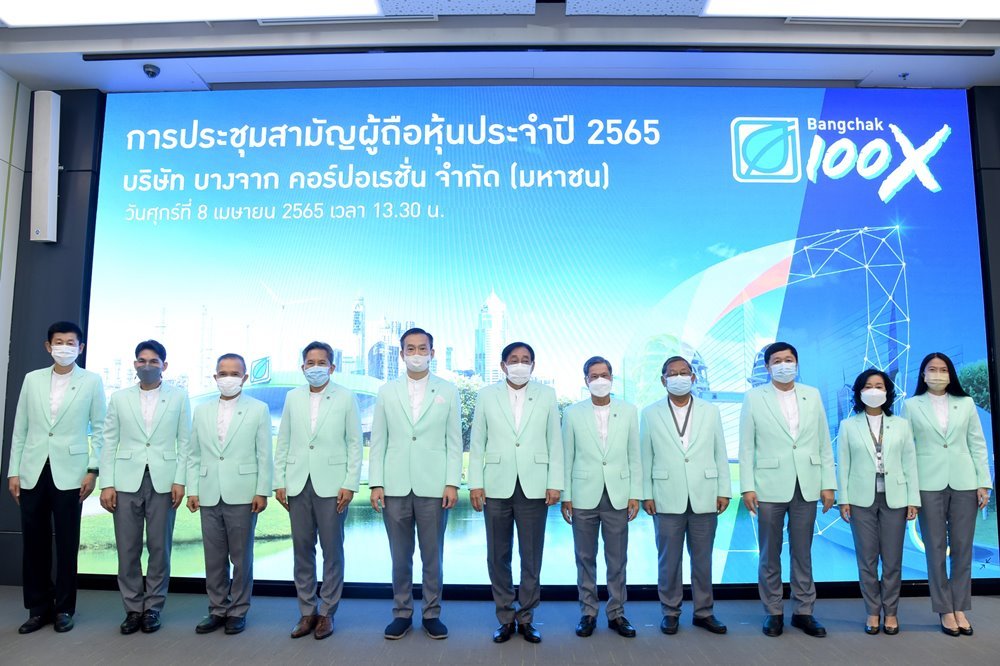 Chaiwat Kovavisarach, President and Group Executive Chief Officer, Bangchak Group, and directors and executives of Bangchak Corporation Public Company Limited or BCP organizes the Annual General Meeting 2022 to report on 2021 performance on 8 April 2022 as an e-Meeting in accordance to Emergency Decree on Electronic Meeting B.E. 2563 and related protocols in consideration for the health and safety of it shareholders, staff, and all stakeholders, observing due diligence in preventing the spread of COVID-19. Moreover, in line with the Company's commitment to addressing global warming, the e-Meeting was a carbon neutral event, with equivalent carbon offsets for the event from various projects from the Thailand Greenhouse Gas Management Organization (TGO) resulting in the Zero Emissions Meeting.
Moreover, the meeting resolved to approve the dividend payment for the 2021 performance to shareholders at THB 2 per share, equivalent to THB 2,715 million, with the first interim dividend payment for the first half of 2021 paid on 21 September 2021, at THB 1 per share equivalent to THB 1,358 million, and the second interim dividend payment for the second half of 2021, at THB 1 per share, to be paid on 22 April 2022 to shareholders listed in the Shareholder Registration as of 3 March 2022.