20 May 2022
Bangchak and Thanachok Oil Light Sign Exclusive Offtake Agreement for Monthly 5-Million Liters of Used Cooking Oil Methyl Ester; BCPT to Market Domestically and Internationally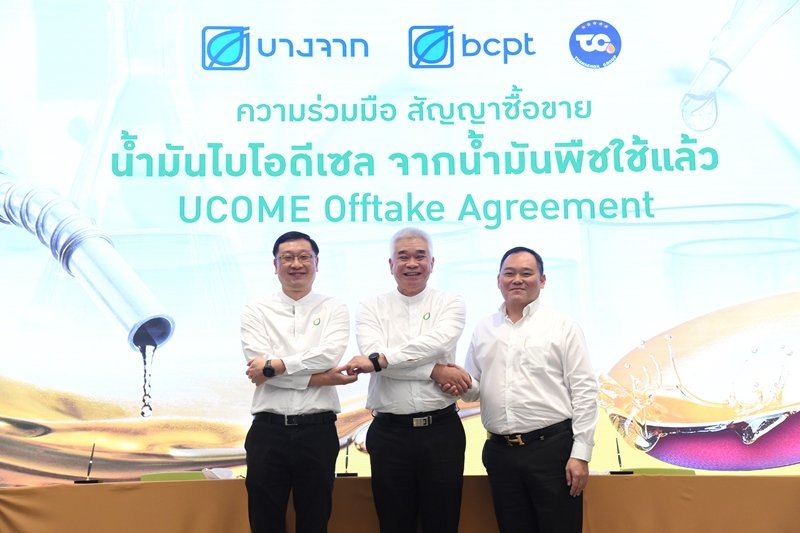 Pativat Tivasasit, Senior Executive Vice President Refinery Business Group and Chief Operation Officer, Bangchak Corporation Public Company Limited, Bundit Hansapaiboon, Executive Vice President, Planning and Trading Business, Bangchak Corporation Public Company Limited, as a director of BCP Trading Company Limited (BCPT) and Tanawat Linjongsubongkot, Managing Director, Thanachok Oil Light Company Limited jointly signed a Used Cooking Oil Methyl Ester (UCOME) Offtake Agreement granting Bangchak exclusive purchasing rights in Thailand to more than 5-million liters per month via Bangchak's oil trading arm, BCPT, currently the largest independent oil trader in Singapore, to commercialize UCOME for domestic and international use.
UCOME is in high demand among oil and gas businesses around the world following concerted efforts to reduce GHG emissions and relieve global warming due to its use of household fuel waste as raw material to maximize its economic value, in line with the Bio-Circular-Green Economy "BCG", whereby Thailand consumes up to 900,000 tons of vegetable oil annually.
This agreement follows the cooperation on the procurement of raw materials, products, construction of production unit, and retail of sustainable aviation fuel between Bangchak Group, BBGI Public Company Limited, and Thanachok Oil Light in April, for the construction of a new production unit in Bangchak Refinery to produce and retail Thailand's first Sustainable Aviation Fuel (SAF) from used cooking oil reflecting its determination for sustainable business as the Leader in Energy Transition.