09 June 2022
Government Savings Bank, Dhipaya Group, and Bangchak Land Loan and Consignment Joint Venture Offering Fair Capital Access for the Public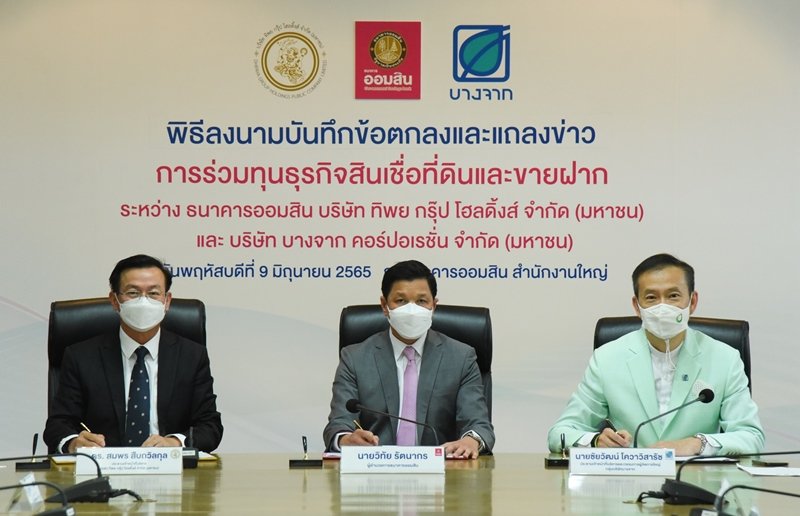 The agreement was signed by Chaiwat Kovavisarach, President and Chief Executive Officer, Bangchak Group, Vitai Ratanakorn, President of the Government Savings Bank, and Dr. Somporn Suebthawilkul, President of Dhipaya Group Holdings Public Company Limited.
"Mee Tee Mee Ngern Company Limited" (Land for Loan) will be established with a registered capital of THB 1,000 million, with GSB, Dhipaya Group Holdings, and Bangchak Corporation, holding a 49%, 31%, and 20% stake, respectively. GSB will conduct manage lending service operations utilizing the three-party's extensive service points.
The company is expected to be ready to provide services in quarter 3 with the launch of land for loan with an initial 7-9% interest followed by the offer of consignment within 2022 before applying for a non-bank business license in 2023 to enter the personal loan market in the future. First year targets estimate lending at THB 10,000 million from a robust GSB customer base, and the more than 2,300 GSB Dhipaya Group, and Bangchak locations nationwide.
Chaiwat Kovavisarach, President and Group Chief Executive Officer, Bangchak Group, stated that Bangchak Group emphasizes social responsible business to foster sustainable economic balance, especially to provide assistance during the economic recover following COVID-19 to stakeholders of all sectors including farmers, with whom Bangchak conducts business with, such as CO-OP service stations and clean energy initiatives.
Investments in financial innovation like the land loan and consignment business of "Mee Tee Mee Ngern Company Limited" will provide new opportunities to agricultural cooperative members and Bangchak customers to access capital and fair loans to enhance liquidity, critical to consumption and business, alleviating debt obligations and improving the quality of life of farmers and the general public, in line with Bangchak Group's ongoing commitment to developing sustainable business innovation in harmony with the environment and society.