21 July 2022
Bangchak, a Communication Partner of APEC 2022 Thailand, Joins International Forum on "APEC and Business Sustainability" at Mahidol University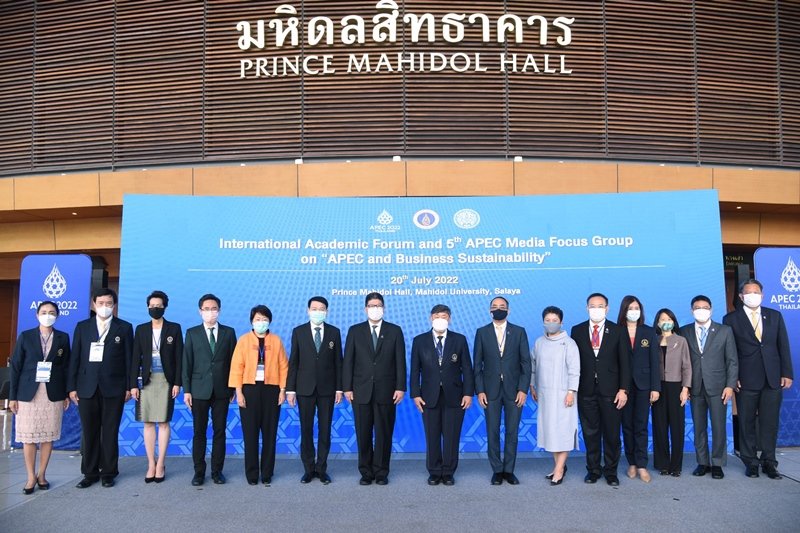 Gloyta Nathalang, Executive Vice President, Corporate Branding, Communication, and Sustainability Activation, Bangchak Corporation Public Company Limited, on behalf of Bangchak, joined the International Academic Forum and 5th APEC Media Focus Group on "APEC and Business Sustainability" organized by the Ministry of Foreign Affairs and Mahidol University at Prince Mahidol Hall as part of the cooperation as a Communication Partner of APEC 2022 Thailand, supporting Thailand hosting of APEC 2022 and related meetings throughout 2022.
The event was honored by the keynote address from H.E. Thani Thongphakdi, Permanent Secretary for Foreign Affairs, welcoming remarks from Professor Banchong Mahaisavariya, President of Mahidol University, and Thani Saengrat, Director-General of the Department of Information and Spokesman of the Ministry of Foreign Affairs, who moderated the discussion on the BCG Economy in Thailand and Business Sustainability, including in the fields of medicine, health, and energy featuring industry examples driven the BCG Economy, including sustainable innovation and technology integration for development and convenience.
Gloyta cited Bangchak's ongoing sustainable approach founded on the principles of Sufficiency Economy, and BCG Model businesses through a variety of products and campaigns including advancing biofuel business into Synthetic Biology, efficient Bangchak refinery water management, the first refinery to receive the Water Footprint certification, various public recycling campaigns engaging consumers such as "Cups for Saplings", "Ruk Pun Suk" etc., clean energy businesses, and the Winnonie - the EV bike rental platform. Moreover, the Sustainable Aviation Fuel (SAF) business, which Bangchak will be the first manufacturer in Thailand, and Bangchak Group's BCP NET plan, all support its goal to achieve Net Zero GHG emissions in 2050.
The meeting was joined by the diplomatic corps, Ministry of Foreign Affairs bureaucrats, Mahidol professors and students, APEC Communication Partners, the public and private sectors, press, and more than 100 guests.