01 Apr 2019
Bangchak Takes Part in 60+ Earth Hour 2019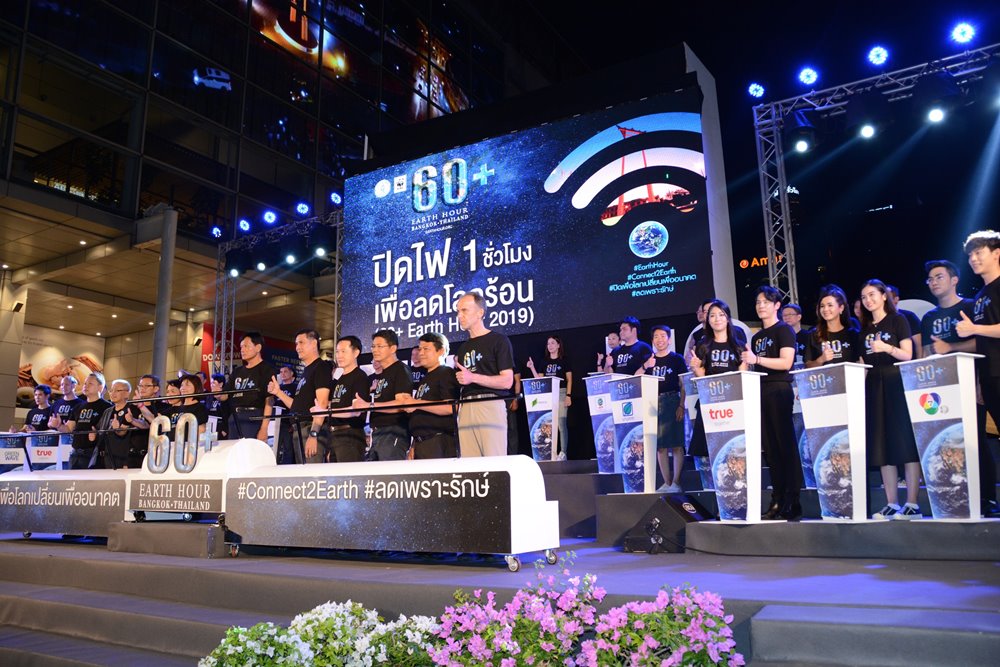 Ms. Pakawadee Junrayapes, executive vice president for sustainability development and corporate compliance of Bangchak Public Company Limited, has recently attended the Bangkok: 60+ Earth Hour 2019 event because Bangchak is one of private companies supporting the cause. Held under the "Turn Off for the Earth, Change for the Future" concept, the Earth Hour event has come with the campaign encouraging people and organizations in not just Bangkok but all other Thai provinces to turn off non-essential lights for one hour between 8.30pm and 9.30pm on Saturday 30th March 2019 at the same time as their peers in 7,000 other cities across the world. The Earth Hour campaign aims at curbing electricity consumption as well as carbon-dioxide emissions, which are blamed for global warming. Campaign supporters are also urged to post their campaign-participation pictures on social media. This event has been held recently at Square C of CentralWorld through the collaboration of the Bangkok Metropolitan Administration (BMA), WWF Thailand, and the Foundation for Environmental Education for Sustainable Development (Thailand) or FEED.
In support of the Earth Hour, all Bangchak service stations in Thailand turned off lights around their buildings while all Bangchak Highway Signs were off during the period. Regarding long-term energy-saving measures, Bangchak has implemented Smart Office system to control energy usage in its compound. The firm, moreover, has seriously campaigned for the reduced use of plastics among its staff and executives for environmental protection.
During Earth Hour, lights also went off symbolically at five important landmarks of Thailand's Bangkok namely the Grand Palace, Wat Arun (Temple of Dawn), the Giant Swing, the Rama VIII Bridge, and Wat Saket (Temple of the Golden Mount). In addition, district offices, roads, many buildings and several houses in the capital also joined the Earth Hour activities. The BMA has expected its Earth Hour 2019 campaign to reduce electricity consumption by 2002 MWh (megawatt hour), carbon-dioxide emissions by 1,026 tons, and electricity expenses by Bt7.86 million. This campaign has also encouraged people/organizations to save energy by various other means such as turning off air conditioners, avoiding the use of private cars, saying "no" to plastic bags, and saving the environment.