18 Sep 2019
Bangchak Celebrates 123rd Anniversary of Royal Forest Department with "Cup Recycling for Seedlings" Project; Encourages Customers to Donate Used Biodegradable Cups to Help Curb Plastic Usage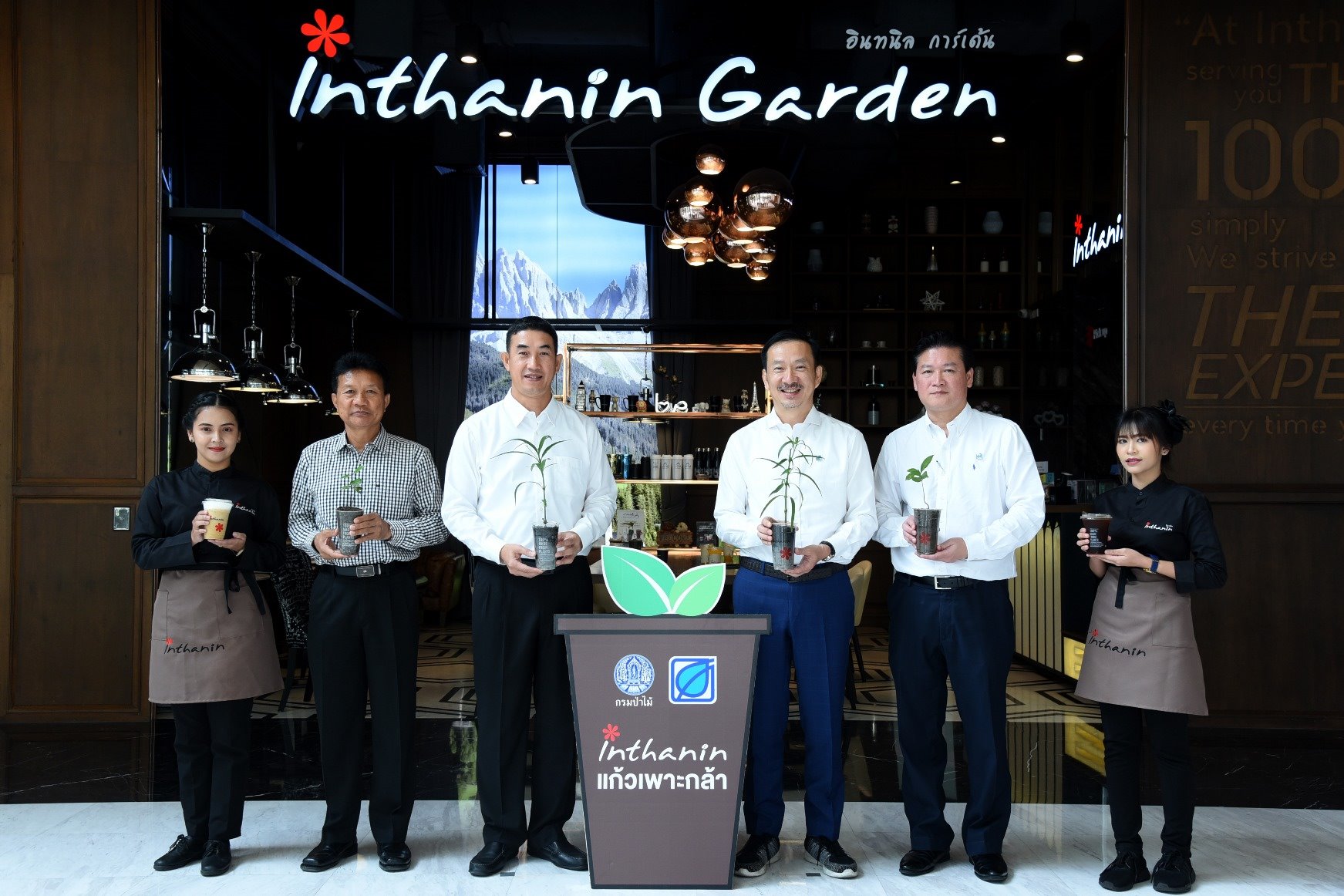 Bangchak Corporation Public Company Limited, in marking the 123rd anniversary of the Royal Forest Department, will launch the "Cup Recycling for Seedings" project in October. Designed to encourage consumers to help reduce plastic usage and to promote the use of biodegradable cups for seedlings, this initiative will accept donations of used coffee cups from Inthanin outlets for the Royal Forest Department to use as seedling-preparation equipment. Under this project, recycled cups will replace black plastic bags that are generally used for seedlings. The campaign thus will significantly reduce the amount of plastic garbage and add green areas to the world.
Mr. Chaiwat Kovavisarach, chief executive officer and president of Bangchak Corporation Public Company Limited, says the Cup Recycling for Seedlings project is a collaboration between his firm and the Royal Forest Department's Forest Nursery Division. He says in marking the 123rd anniversary of the department on 18 September 2019, Bangchak will encourage customers to return disposable and used cups of Inthanin beverages so that Inthanin coffee shops can pass on these cups to the department for use as seedlings-preparation equipment. Made entirely of bioplastics, these cups will effectively work in place of plastic bags in containing seedlings. Inthanin cups are biodegradable. Under appropriate conditions, they can decompose on their own within 180 days. Starting from 4 October 2019, all Inthanin coffee shops will start accepting the donations of used cups. For every 10 donated cups, customers will get Bt5 discount on Inthanin beverages.
Mr. Athapol Charoenshunsa, director general of the Royal Forest Department and the director of the Forest Protection Command of the Ministry of Natural Resources and Environment, says the Forest Nursery Department has usually used between 80 and 100 million black plastic bags for seedlings each year. The Royal Forest Department therefore has decided to embrace the initiative to use biodegradable materials in place of plastic bags in the hope of providing better care to the environment and curbing plastic-bag usage, which has lately been a growing problem with serious impacts on humans and ecological system. Under the initiative, the Royal Forest Department will receive used Inthanin cups and deploy them at the Forest Nursery Division, forest-nursery stations of the Reforestation Promotion Office and all other relevant units under the department's supervision. In the pilot phase, the project will experiment with the use of the donated disposal cups for one year and seek consultations on improving relevant process/guideline during the period.
The Cup Recycling for Seedlings Project promises to promote recycling for social benefits and also to nudge people to reduce plastic waste. The trend will catch on when everyone starts taking the first steps.
While all Inthanin cups are biodegradable, it is still best to reuse or recycle them for maximum efficiency. On top of curbing garbage amount, the Cup Recycling for Seedlings Project adds value to natural resources. Let's repay the nature. "Donate your cups for our Earth".