19 Nov 2019
Bangchak Launches "Sri Thararak 8" Oil Spill Response Boat.Equipped with skimmer system allowing the boat to start cleanup operations without being assisted by other vessels.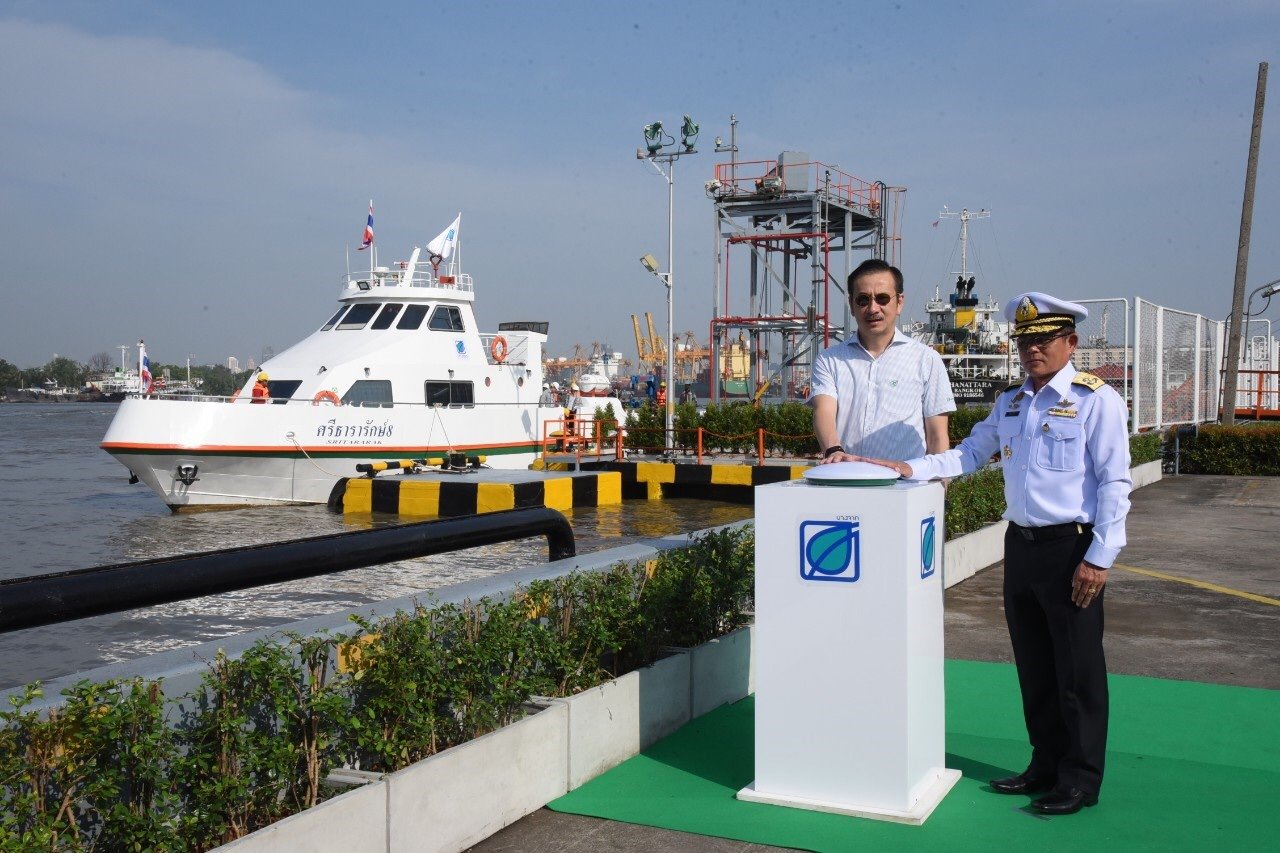 On 19 November 2019, Mr. Wittaya Yamuang, the Director General of the Harbour Department, presided over the launch of Sri Thararak 8, a belt skimmer vessel owned by Bangchak Corporation Public Company Limited (BCP). He was welcomed by Mr. Chaiwat Kovavisarach, BCP President and CEO, company executives and employees, and executives and representatives from the Oil Industry Environmental Safety Group Association (IESG) at the BCP Refinery Port in Bangkok."At Bangchak, we place top priority on environment and safety. As we deal with crude oil transportation and loading by vessels along the Chao Phraya River, the Company has arranged for Sri Thararak 8 vessel to be stationed at the refinery port to ensure the nearby communities of safety and environmental management in case of emergencies. In addition, the vessel is on stand-by to assist in cleaning up of oil spills by the government authorities and the Oil Industry Environmental Safety Group Association (IESG) of which Bangchak is a member, including support for floodings or other events upon request.", said Mr. Chaiwat.
"Sri Thararak 8 has been designed to support oil spill clean-up operations. The vessel can collect up to 10,000 liters of oil spill. The vessel is installed with ready-to-use side collecting boom system and a belt skimmer set. Sri Thararak 8 can be deployed for operations without having to wait for other vessels like previously when three vessels were required. Sri Thararak 8 is also equipped with firefighting system for safety enhancement in case of emergencies. It also features a meeting room which helps facilitate planning for oil spill recovery mission effectively."
Mr. Wittaya Yamuang, Director- General of Harbour Department said, "It is with great pleasure to learn that Bangchak Corporation Plc., a private company who has consistently placed safety on top priority, has launched its own oil spills response vessel which can be deployed immediately as required. I would like to express my sincere appreciation to BCP for being part of this all-important mission to conserve the environment along the Chao Phraya River, a major source of water for Thailand."
Sri Thararak 8, of which the name was from naming contest among BCP employees, is a marine-specific vessel used for offshore activities support operations. Built in 2017 by ACS Marine Co., Ltd., the vessel is 25 meters long and 6 meters wide, manned with 3 crew members, and can accommodate 25 passengers.