04 December 2019
Bangchak Group Embraces Environmental Care for Sustainability Yearend Activities Celebrate King Rama IX, World Soil Day, Thai Environment Day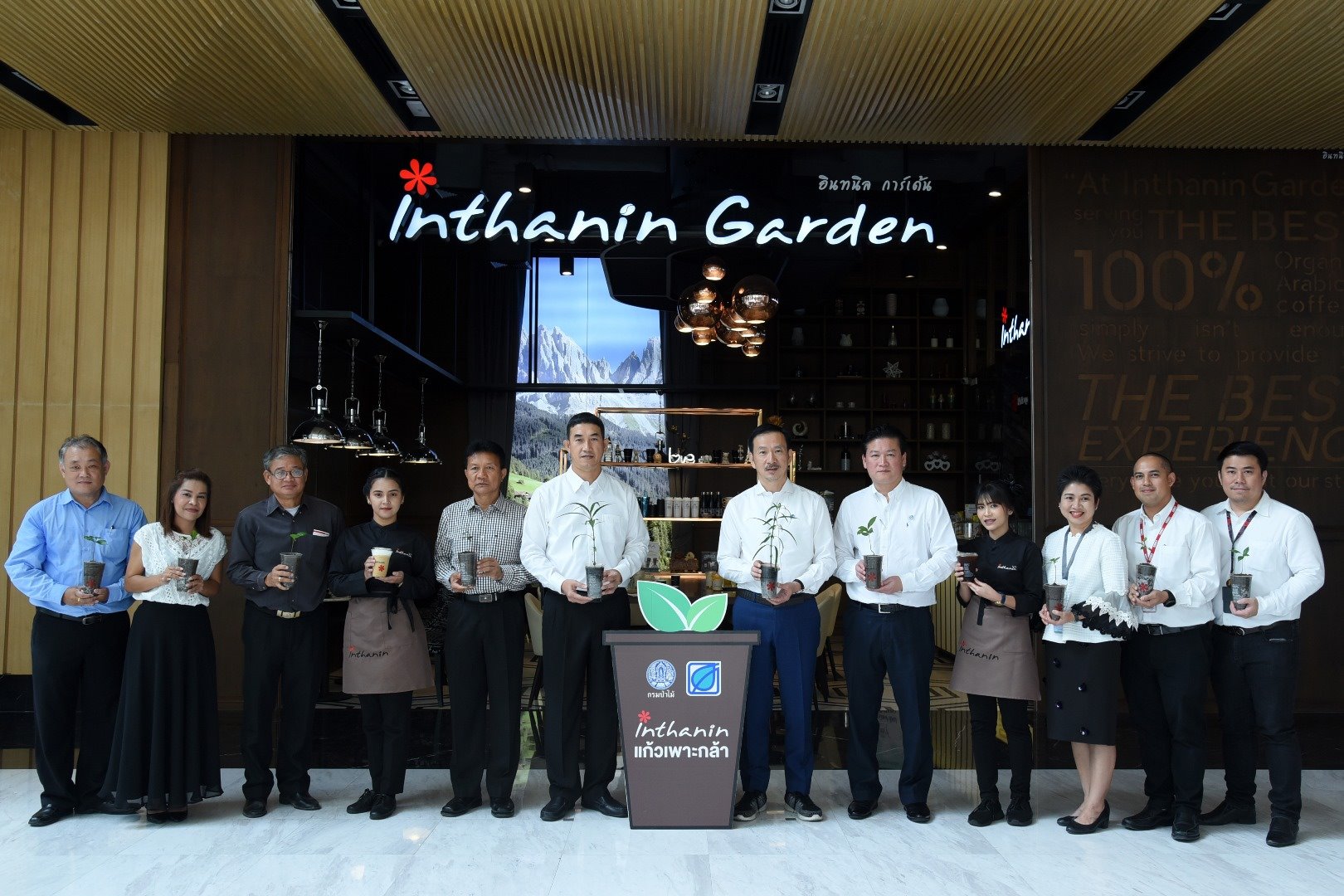 December is an important month for sustainable development at both national and international levels, because it is the month when the World Soil Day and the Thai Environment Day are celebrated. Moreover, it is the month to pay tribute to HM King Bhumibol Adulyadej the Great (King Rama IX) who was born in December.
Mr. Chaiwat Kovavisarach, chief executive officer and president of Bangchak Corporation Public Company Limited, said, "In December or yearend period, Bangchak has conducted many activities for the cause of sustainability. To mark the Thai Environment Day on December 4, which has been designated since 1990 after King Rama IX expressed his concerns about the Thai environment during his pre-birthday speech a year earlier, our Inthanin Coffee outlets hand out seeds to customers so as to encourage people to grow plants and add both green areas and fresh air to the country. The seeds come from the Royal Forest Department and are distributed through a follow-up of the Cup for Seedlings project. In addition, Inthanin Coffee – Thailand's No. 1 eco-friendly café brand – has created several other activities for customers to contribute to environmental care such as discounts for the environmentally friendly and support for green charity organizations. Our SPAR convenience stores, meanwhile, have stopped giving plastic bags from December 4 onward well ahead of the government's D-Day of 1 January 2020. Between December 4 and 15, SPAR gives a Spunbond bag to a customer who spend at least Bt80 per receipt".
To celebrate the World Soil Day on December 5, Bangchak has waged the "Stop Soil Erosion, Save our Future" campaign in remembrance of King Rama IX. Moreover, the firm has joined the "Continue & Build Further Success based on the King's Philosophy @KaenMakrut" project that is implemented in Kaen Makrut subdistrict, Ban Rai district, Uthai Thani province. The implementation has been done through Bangchak's collaboration with the Institute of Royal Initiatives Discovery Project, the Agri-Nature Foundation, the Land Development Department, and Uthai Thani government for the purpose of solving soil erosion based on the king's philosophy, which focuses on soil and water conservation for food abundance. Under the project, Bangchak has improved soil conditions of four farming families and also their quality of life. Their land area spans over more than 20 rai. Bangchak has contributed in the form of a "research project to monitor economic, social and environmental impacts for three consecutive years (2020 and 2022).
BCPG, the producer of clean energy in Bangchak Group, has also installed floating solar panels for the Museum of Fisheries in honor of King Rama IX. These panels spread over a 10-rai fish pond of the Kasetsart University's Faculty of Fisheries. King Rama IX is considered the Father of Thai Energy. He also granted Tilapia nilotica fish, now a staple, to Thai people. The Museum of Fisheries, where the world's first exhibit of Mahidolia mystacina has been kept, is now able to use clean energy from the floating solar panels. Emitting no greenhouse gas emissions, the facility is Thailand's first museum to have the Net Zero Energy Building (NZEB). Floating solar panels start operations from early December, 2019.
Furthermore, Bangchak Group has joined the government's National Father Day event, which runs from December 5 to 14 at Sanam Luang. During the event, Bangchak Group has organized an exhibition on BCG (Bio-Circular-Green) Economy Model and sustainability-themed business operations. Inthanin Coffee and SPAR have handed out free beverages at Bangchak booth. Also given away for free are Bangkok Green Miles card, benefits for cardmembers, and Bangchak Innowaste fertilizer. The fertilizer is handed out in a biodegradable coconut-fiber pots.
"In 2020, Bangchak will also implement many projects for sustainability goal. There will be both old and new projects. On top of this, we will launch innovations so as to engage staff, partners, and consumers in the bandwagon," Mr. Chaiwat concluded.