12 March 2020
Bangchak Group Supports Energy Ministry's Fight against COVID-19, Gives 30,000 Tubes of Hand Sanitizer Made of BBGI's Alcohol & Glycerin, Implements Measures to Ease Disease's Impacts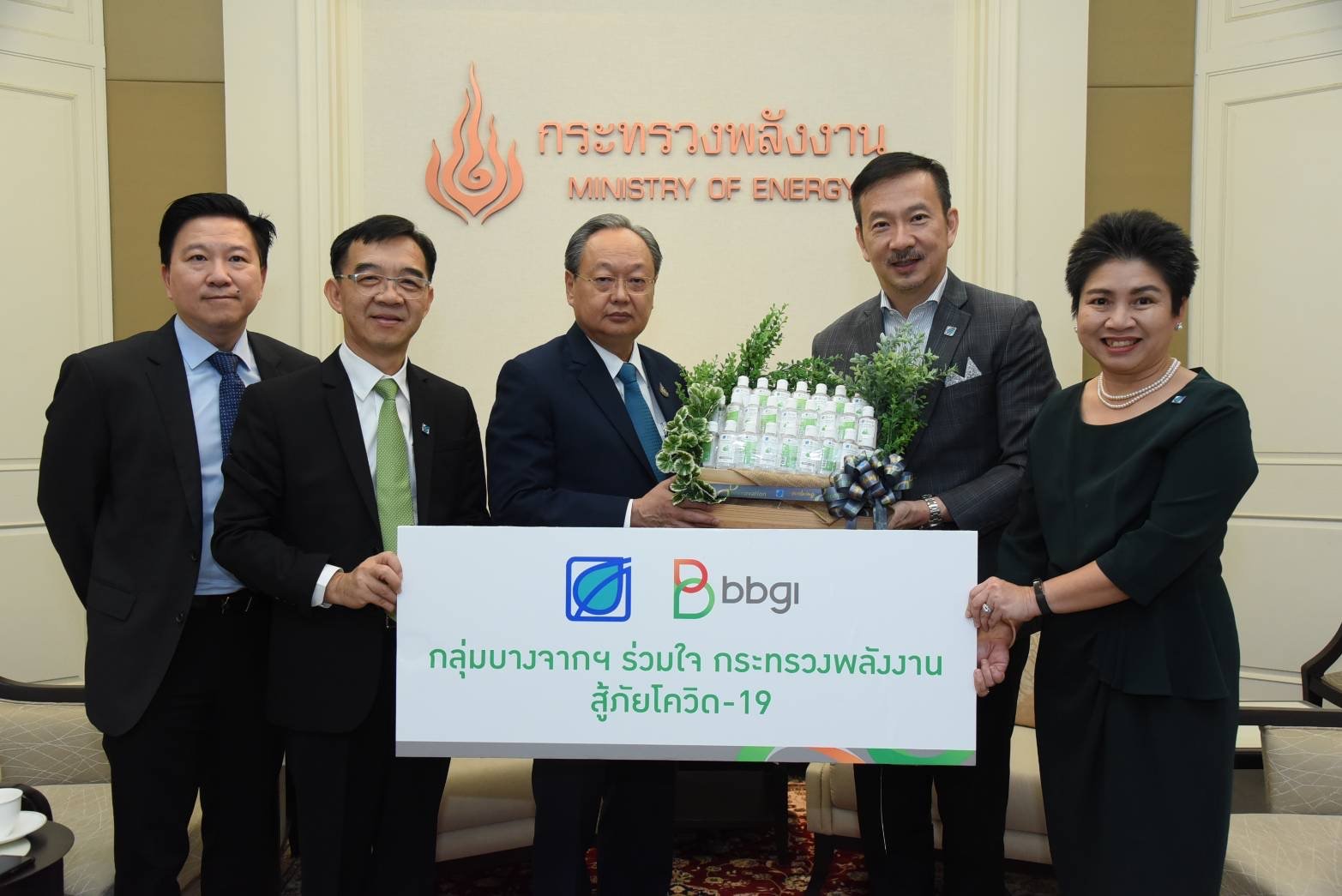 On 12 March 2020, Mr. Chaiwat Kovavisarach, chief executive officer and president of Bangchak Corporation Public Company Limited (Bangchak), together with Mr. Pongchai Chaichirawiwat and Mr. Chalush Chinthammit who are chief executive officer and managing director of Bangchak's subsidiary BBGI Public Company Limited respectively hands over 30,000 tubes of 50ML hand sanitizer to the Energy Ministry for free distribution to people in need via the ministry's various outlets such as provincial energy offices. Energy Minister Mr. Sontirat Sontijirawong accepts the alcohol-gel hand sanitizer on behalf of his ministry at his own ministry or B Building of Energy Complex.
Mr. Chaiwat says as an energy organization with social and environmental responsibility, Bangchak has discussed with the Energy Ministry on how to prevent the spread of Coronavirus Disease 2019 (COVID-19). According to him, although his firm is in an industry hit by the disease, its caring concerns for Thai people in the face of COVID-19 threat means it is ready to provide assistance where its core business can be of help.
Now, Bangchak has given 30,000 tubes of 50ML hand sanitizer to the Energy Ministry for free distribution to people in need. Made of ethanol and glycerin from the manufacturing process of BBGI that is the bio-based energy firm in Bangchak Group, these tubes are not for sale.
Bangchak, moreover, has planned to ensure its service stations double as refill stations of hand sanitizer so as to provide convenience to people and curb unnecessary use of materials. It believes that during the upcoming pilot phase, refilling services will be available at several service stations soon.
Out of care for staff working at Bangchak Group's refinery, service stations Inthanin Coffee shops, and SPAR convenience stores, some employees of the group have produced fabric masks for such staff to boost their safety at work on a daily basis.
Bangchak has already implemented several measures for its organizational management and for the reduction of adverse economic and social impacts from COVID-19, and has also prepared a contingency plan as follows:
1. Bangchak has complied with hygienic standards and disease-control measures of Thailand, and has strictly followed the advice of the Public Health Ministry's Disease Control Department in introducing measures to prevent the spread of COVID-19 within its group from January 30 onward and intensifying measures in response to the Public Health Ministry's guidance. These measures apply to Bangchak's staff as well as those of suppliers. For example, staff must refrain from any oversea work trips. Those who have returned from high-risk countries are also required to work from home for 14 days as a precaution;
2. Bangchak has given fabric masks and gel-based hand sanitizer in portable tubes to staff, has made hand sanitizer available at various corners of workplaces, has regularly cleaned contact points, has used ozone sanitization, has conducted temperature screenings for staff/visitors, and has released information on how to protect oneself via its various media outlets including Banchak's Facebook page;
3. Bangchak has closely monitored the situation, has prepared Business Continuity Plan, and has conducted tabletop exercises;
4. Bangchak has temporarily shut down its Green Energy Innovation Learning Center at M Tower, Bangkok, and BCPG Visitor Center in Ayutthaya's Bang Pa-in district so as to reduce the risk of COVID-19 spread; and
5. Bangchak has launched "Triple Benefits" promotion to ease diesel-oil users' expense burden. Under the promotion that runs from March 1 to May 31, Hi Diesel S B 10 is sold at Bt3 cheaper than general diesel oil per liter. Buyers, as a plus, get two big bottles of drinking water and double reward points.
"In the face of ongoing unpredictable situation, we hope all will cooperate with the government and take useful advice to curb risks, take good care of health, and show responsibility for other people and the society. Do so and we all will be safe from COVID-19 and not spread the disease to others. It is a way to brave through this crisis together," Mr. Chaiwat concludes.