19 March 2020
Bangchak is Set to Launch Thailand's First Free Alcohol-Gel Refilling at Service Stations; Initiative to Start at Outlets in Greater Bangkok First from Mar 23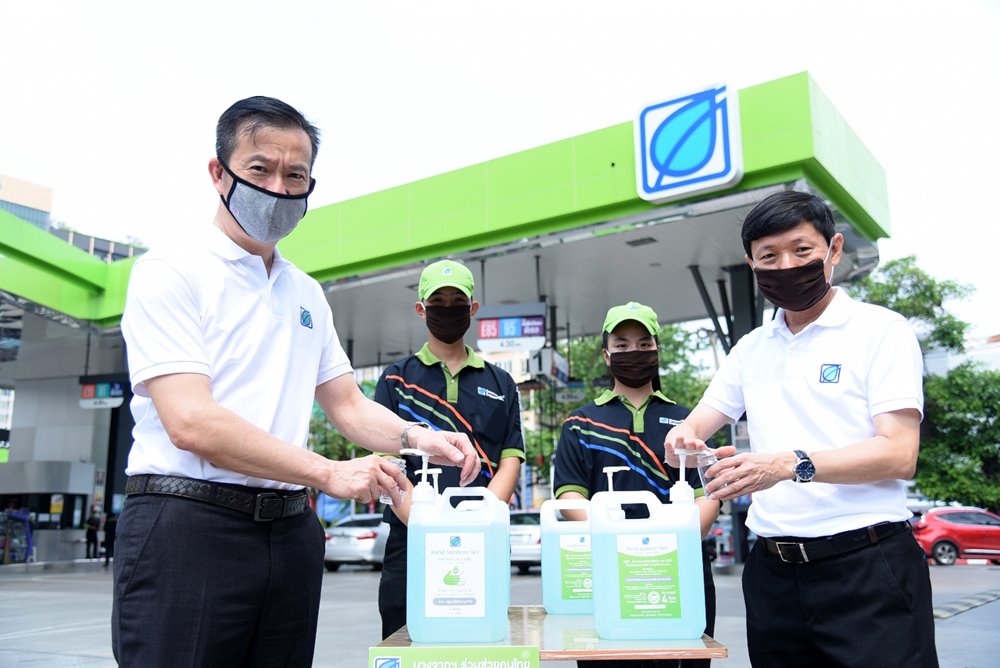 Bangchak Corporation Public Company Limited is now ready to set up hand-sanitizing alcohol-gel refilling points at about 200 Bangchak service stations in Greater Bangkok (the capital and its adjacent provinces) for people to refill for free. To start from March 23, this first of its kind initiative in Thailand will curb the use of disposable packages and reduce the amount of garbage.
Mr. Chaiwat Kovavisarach, chief executive officer and president of Bangchak Corporation Public Company Limited (Bangchak), reveals that to ease Thais' burden in the wake of the COVID-19 outbreak, Bangchak will make gallons of hand-sanitizing alcohol gel available at its service stations for people to refill without any charge.
"I would like to invite people to bring clean bottles with lids to the refilling points. You can fill your bottles with our free alcohol gel regardless of whether you buy petrol or any service from Bangchak service stations or not. The refilling amount is limited to no more than 50 ML per person, though, so as to ensure that the refilling will comprehensively cover the public. The free alcohol-gel refilling aims at curbing the use of disposable packages and garbage. The move is in line with the Circular Economy and underlines the fact that we can still help protect the environment even in this situation," he adds.
To boost customers' confidence in Bangchak service stations, Bangchak has now prescribed stringent hygienic measures at contact points. For example, staff at forecourt and indoor service points must wear face masks. Their body temperature has also been measured on a regular basis. Hand-sanitizing alcohol gel is made available at both cashier's desks and forecourt so that staff can clean their hands regularly. At ladies' rooms, men's rooms, and all-gender toilets, liquid soap is provided at washbasins. In addition, the toilets have been cleaned constantly with contact points such as doors and sanitary wares also being disinfected. On top of these measures, Bangchak has also carried out big-cleaning operations at its service stations every 15 days.
Free alcohol-gel refilling points at Bangchak service stations in Bangkok will open on 23 March 2020 from 10am while stock lasts. You may check the list of participating branches at www.facebook.com/Bangchak and www.bangchakmarketplace.com.