04 April 2022
Bangchak goes on-location with the Faculty of Fisheries, Kasetsart University, to support the drive to make Koh Mak, Thailand's first Low Carbon Destination.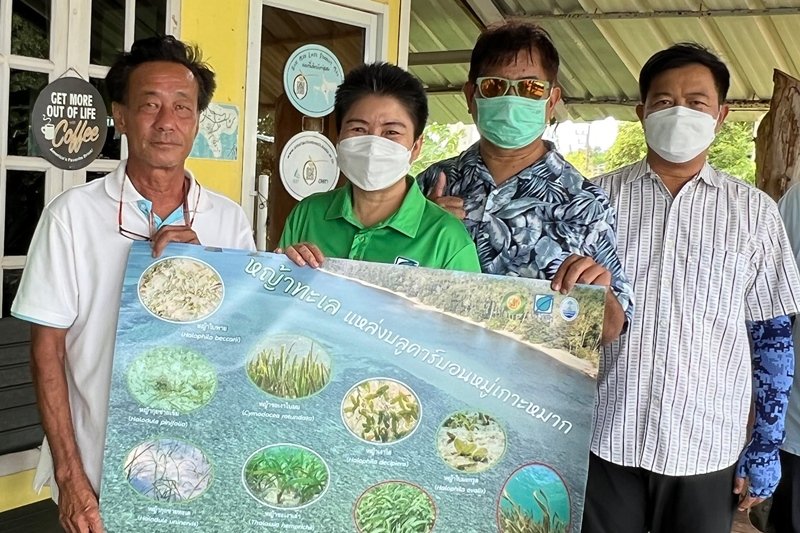 Promote Low Carbon Destinations for sustainable tourism.
Accelerate the study of GHG capture and storage through Blue Carbon in seagrass along coral reefs around the eastern part of Koh Mak.
Gloyta Nathalang, Executive Vice President, Corporate Branding and Communication, Bangchak Corporation Public Company Limited, Dr. Thon Thamrong-Nawasawat, Associate Dean for Administration, Faculty of Fisheries, Kasetsart University, and Sutarak Sunthornviphart, Managing Director, Designated Area 3, Office of the Designated Areas for Sustainable Tourism Administration (Public Organization) or DASTA, went on-location to cooperate with communities on Koh Mak, Amphoe Koh Kut, Trat Province, to evaluate opportunities to promote Koh Mak into Thailand's first Low Carbon Destination, including land and marine activities to comply to Low Carbon Destination guidelines.
Initially, Bangchak supported the Faculty of Fisheries, Kasetsart University, to study the feasibility of seagrass to capture and store GHG along the coral reefs around Koh Mak and Koh Kradan, Trat Province, marking a critical drive to enhance natural carbon sequestration through Blue Carbon around Koh Mak. This was followed by discussion on cooperating with local communities working with the Koh Mak Tourism Community Enterprise, working closely with the Koh Mak Sub District Administration Organization. All parties share the same commitment to sustainability, determined to reduce GHG emissions to protect land and sea ecosystem through various activities such as harnessing renewable energy for electricity, promoting clean energy modes of transport, waste management, increasing marine green areas through reef restoration, as well as restoring seagrass along Koh Mak coral reefs etc.
Moreover, by supporting the Blue Carbon study of seagrass along the eastern Koh Mak coral reef and developing Koh Mak into a Low Carbon Destination, emphasizes Bangchak Group strategy which is committed to Net Zero GHG Emission by 2050, by first achieving Carbon Neutrality by 2030.