22 April 2022
Bangchak Members Presents Funds from Loyalty Points to Public Organizations for the 16th Consecutive Year toward Quality of Life and Environmental Sustainability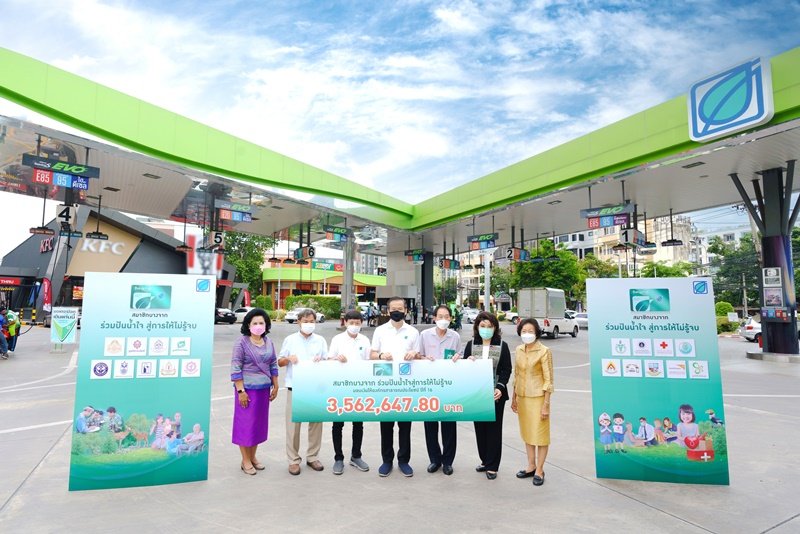 Bangchak and Green Miles Members presented funds from loyalty points and Bangchak totaling THB 3,562,647.80 to 18 social and environmental public organizations for the 16th consecutive year to contribute the improvement of the quality of life of the less fortunate and environmental sustainability.
On 19 April 2022, Chaiwat Kovavisarach, President and Group Chief Executive Officer, Bangchak Group, and executives represented Bangchak Green Miles members in presenting funds from loyalty points and Bangchak totaling THB 3,562,647.80 to 18 social and environmental public organizations at Bangchak Sukhumvit 62 service station, and was received by representatives of the organizations, who thanked Bangchak Green Miles members for their continuous contribution over the last 16 years, which funds operations, helping to improve the quality of life of those in need, such as children, the elderly, and towards environmental sustainability.
Bangchak was the first service station business to launch a loyalty program, which has continually evolved with the expectations and lifestyles of the modern life, by offering numerous benefits for every occasion, and convenience, adding more value to each point earned. To enhance the value of each point, it strives to provide members with the opportunity to participate in social and environmental engagement, prompting Bangchak to initiate a campaign to donate loyalty points to public service organizations in 2 ways, a transaction-based method via the Bangchak application or website by selecting the organization and points, or through a point deduction method every 30 November each year through the member profile settings. At present, there are 18 participating organizations, namely, 1.Phra Mongkutklao Hospital Foundation 2. The Princess Mother's Medical Volunteer Foundation 3. Ramatibodi Foundation 4. Thai Red Cross 5. Golden Jubilee Medical Center, Mahidol University 6. Ban Bang Khae Foundation 7. World Vision Foundation of Thailand 8. Seub Nakhasathien Foundation 9. Rural Doctor Foundation 10. Child Protection Foundation 11. Universal Foundation for Persons with Disabilities 12. Dharma Raksa Foundation 13. Thailand Hornbill Research Fondation 14. Pavena Foundation for Children and Women 15. Foundation of National Disaster Warning Council 16. Khruba Noi Foundation (non-profit organization) 17. Rajavithi Hospital Foundation and 18. Bai Mai Pun Suk Foundation.
The main benefits for Bangchak members are loyalty points for every refueling, purchase, or service transaction at Bangchak, each point valued at 20 satang, with a special program, "Increase Equals Returns", whereby members refueling following price increases, in addition to collecting loyalty points, receive points in the amount of the price difference, helping to reduce costs burden on that day.
Loyalty points can be used as discounts on Bangchak fuels, Inthanin, Baichak Mart, lubricants at Bangchak service stations or Car Care, redeemed for additional benefits or discounts at leading shops or numerous premium gifts, as well as special promotion throughout the year. Additionally, loyalty points can be transferred to other partners or other members via the Bangchak Mobile Application.
Bangchak continues to develop various systems according to the Greenovative Destination concept to provide greater convenience to members, addressing the new normal lifestyle, such as Digital Payment – contactless payment, and the addition of new and easily redeemable benefits. For more information on Bangchak membership and various benefits, visit Bangchak Mobile Application or www.bcpgreenmiles.com.