30 April 2020
Bangchak Starts 2nd Round of Alcohol-Spray Distribution on May 5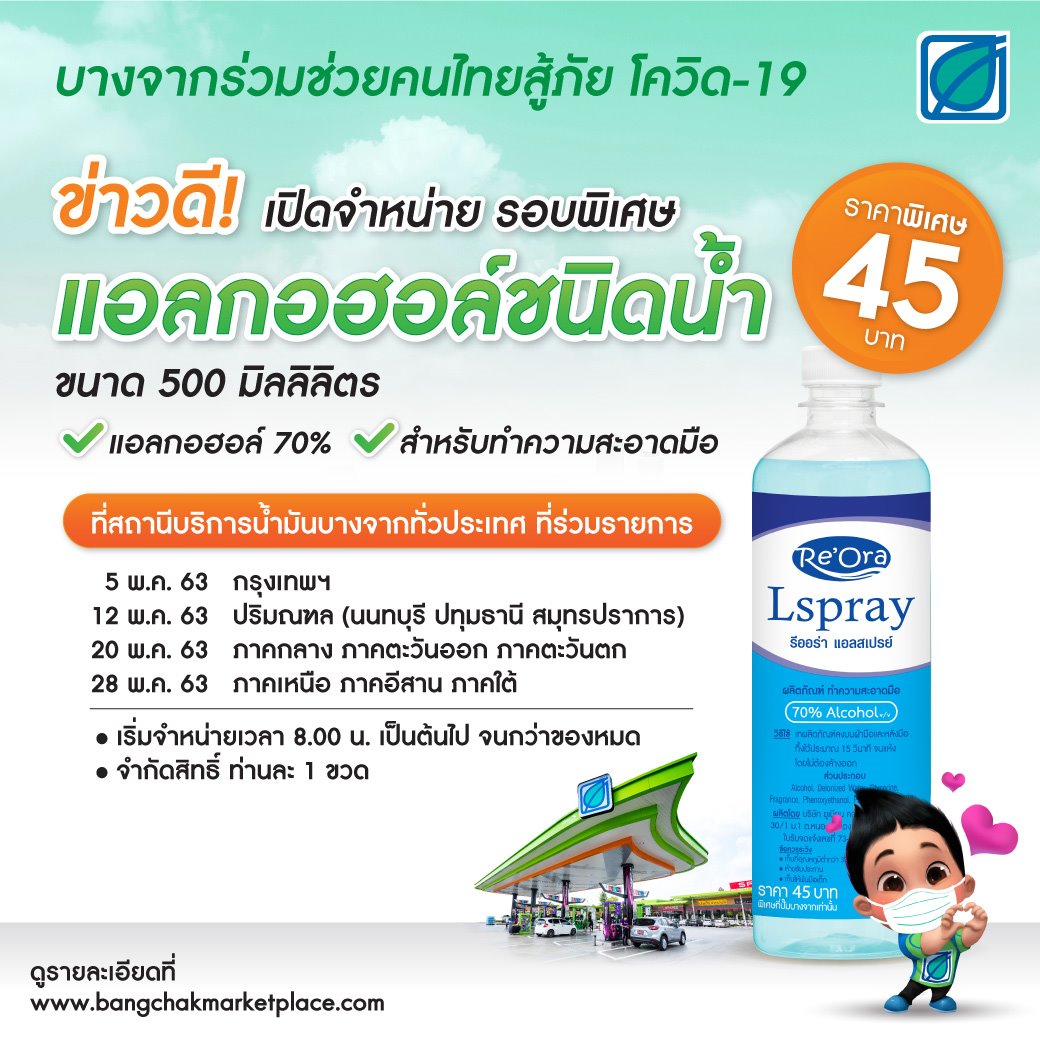 Bangchak Corporation Public Company Limited continues its support for Thais' battle against COVID-19 and the country's efforts to prevent the spread of the disease by launching the 2nd round of alcohol-spray distribution from 5 May 2020. At more than 900 Bangchak service stations, a 500ML bottle of alcohol spray will be available at just Bt45 as Bangchak seeks to ease Thais' expenses. The 2nd round of distribution will roll out in phases and eventually cover the whole country:
1. In Bangkok, distribution starts from 5 May 2020.
2. In Bangkok's Adjacent Provinces namely Nonthaburi, Pathum Thani and Samut Prakan, distribution starts from 12 May 2020.
3. In other Central provinces, the East, and the West, distribution starts from 20 May 2020.
4. In the North, the Northeast, and the South, distribution starts from 28 May 2020.
This alcohol spray will be available from 8am and its distribution will continue while stock lasts at participating Bangchak service stations. You can check the list of participating stations and distribution dates via or www.bangchakmarketplace.com or Bangchak's call center 1651.
To ensure that the alcohol spray comprehensively reaches people living in Thailand, buyers will be asked to buy just one bottle each. Purchases can be made even if buyers do not fill their tank or buy any other service/product from the Bangkok service stations. The distribution spot of the alcohol spray is the area in front of the office of each participating service station. In events that there are many buyers at the spot, buyers must form a line and stand at least one meter apart from others.
This alcohol spray is a medical-grade alcohol. Moisturizing and fragrant, it is entirely free from the type of alcohol used in fuel production. With 70-per-cent alcohol content, this alcohol spray is an efficient disinfectant. Users can sanitize their hand with the spray without the need to rinse it off. The product can also be used to clean surfaces, as it can kill 99.99% of bacteria. Manufactured by Bangchak's business partner, this alcohol spray meets the Food and Drug Administration's standards.
Bangchak has constantly helped ease people's expenses in the wake of the COVID-19 outbreak through various measures. For example, it has handed out free alcohol gel. Moreover, it has implemented stringent measures to ensure its service stations are safe and clean. All staff must wear face masks and frequently wash their hands. Their body temperature has also been measured on a regular basis. In addition, toilets have been cleaned constantly with contact points such as doors and sanitary wares also being disinfected. On top of these measures, Bangchak has also carried out big-cleaning operations at its service stations every 15 days.